P3 (Phat Performance Products) Quad Tip Mufflers
~~~~~~~~~~~~~~~~~~~~~~~~~~~~~~~~~~~~~~~~~~~~~~~
Updates
As Of
- Thursday May 29, 2009
News
- Last week saw Phat go into a production frenzy, as he churned out x8 sets of mufflers. This week was focused on shipping them out! x3 sets went to QLD, x2 to ACT, and x1 to Mildura. Sorry, sedans only.
Phat is finishing up the jig for the wagons, and will start production on wagon mufflers Friday. I've given him a target of producing all x5 wagon sets by next Friday. Yes, it should be in time for birch_security's run to Melbourne either on the 15th or 24th of June. Anyone wishing to receive theirs earlier, it's $30 to Melbourne.
Those of you asking when this Group Buy will open again, well, I can't say at this point. I just want to finish up the orders we currently have so that people aren't waiting any longer. Then once Phat takes a break, we'll open it up again.
Muffler Fitting Instructions

- http://forum.liberty.asn.au/viewtopic.php?p=74675
~~~~~~~~~~~~~~~~~~~~~~~~~~~~~~~~~~~~~~~~~~~~~~~
Summary
Ok, here it is. The quad tip mufflers from Phat Performance (like Norm, that's something I made up). Sorry it took so long to post up but I was busy today taking pictures and videos on the guinea pi ... err, volunteer testers.
A big big thanks to the Phat man for dedicating his own time to doing the research on selecting the best muffler available (out of 50 that he went through he decided on this one). And also putting in the labour work on swapping out the mufflers on numerous Libs more times than I can count. Also thanks to our volunteers: Norm (libsti), Tony (smythie), and Trieu (WhiteGTB).
The main reason why this muffler came into existance is to provide an alternative to the HiTech quad tips, which are extremely popular. However, in order to qualify them to be street legal, they are also quite restrictive and as of recently, has had QA issues with construction and fitment. So comparisons here on in will be between HiTech vs Phat Performance.
Construction
Upon inspection one can already see the quality difference between the two. Phat's is stainless steel throughout and is of high quality material. Yes, the size of the muffler body is bigger than the HiTechs, but it also means that more insulation can be packed in to provide better noise control. However do not take the pictures here as the representation on what the final product will look like. This is just the prototype so everything was quickly thrown together in order to produce this post.
Sound
As for the sound, which is why most people buy the HiTechs, they are relatively similar. On a 2.0t engine, Phat's sound deeper, more solid, with less 'rhaspy' noise to them. On the 3.0 NA engine, it sounds like a V8! A very nice deep growl to it. And on the 2.5t, the WRX burble is up front and well pronounced. There is no interior cabin drone and while the exhaust noise is noticeable, it's not intrusive or obnoxious just like the HiTechs. Phat's muffler actually recorded 2 decibels lower than the HiTechs in a non-formal test environment using sound measuring equipment. On a completely stock turbo car, 81 decibels was recorded, meaning it is street legal.
Performance
In terms of performance gains, one probably won't see too much difference between Phat's and HiTechs for the stock NA engines. However for modified NA's and turbos, less restriction equates to more power. And the HiTechs are quite restrictive if you compared pipe size in inlet, outlet, and internally. You'll see a sizeable difference in the pictures below as well for the inlet. But Phat's one has a very unrestrictive flow design that does not get smaller even in the muffler body. But the straight through design is excellent at providing the least restriction possible while still controling noise levels.
Pricing
At the moment pricing is looking at the $800 mark. It could have been cheaper by going with a lesser muffler body, but this is a brand new muffler and design that just came on market and has quality constrcution throughout as well as a improved design.
Specs
- All stainless steel construction
- 2.5" inlet
- Dual 2.5" outlets
- Straight-through perforated internal design
- Capable of channeling up to 500kw
- Reading of 81 decibels on a stock car making it street legal
Pictures
Production release is finally at hand. Here are some new pictures of it:
http://forum.liberty.asn.au/viewtopic.php?p=60614#60614
Pretty good for a 1st attempt. The reinforcement bracket between the tips will not be there in the final version, the slash cut tips will be at a lesser angle, and the tips will sit closer together.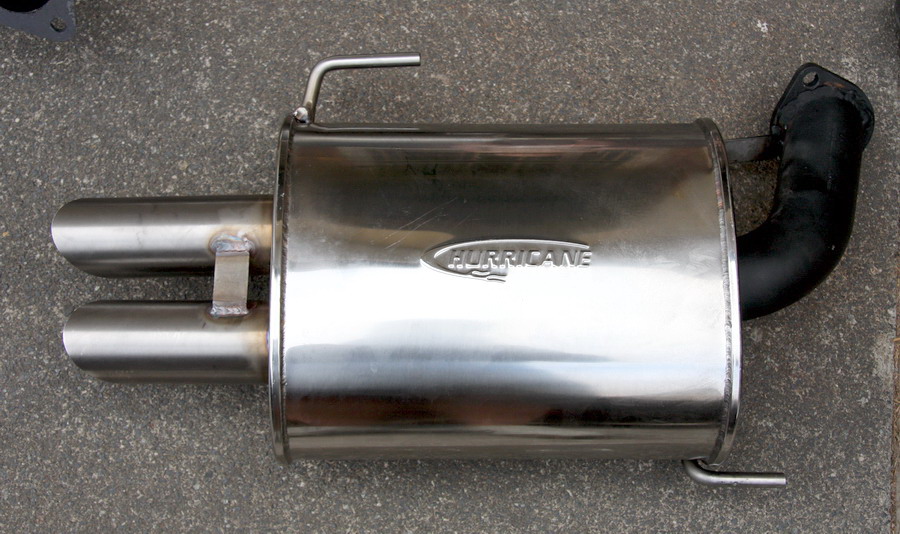 A look into the muffler from the inlet pipe. Things to note are the straight through design because you can see through the other side. The even Y-split on both sides without the reduction of pipe diameter. The divider in the middle is rounded for un-interrupted air flow. The prototype has a mild steel backplate where the inlet pipe is. The production version will be full stainless steel like the one seen here.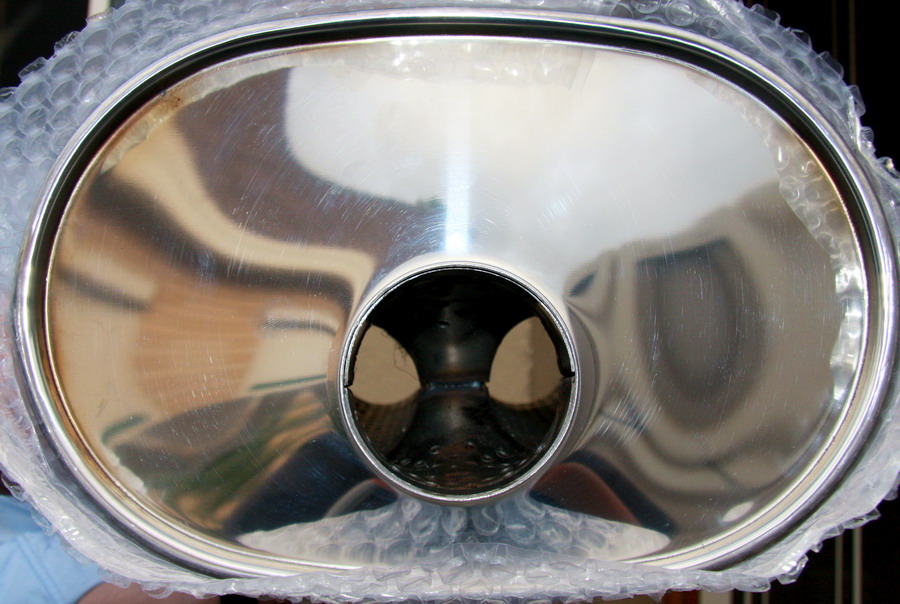 The HiTechs (top) and Phat Performance (bottom) side by side. Phat's are bigger but are at the same noise level while providing better flow and performance. Again, final version will have tips sitting closer together like the HiTechs.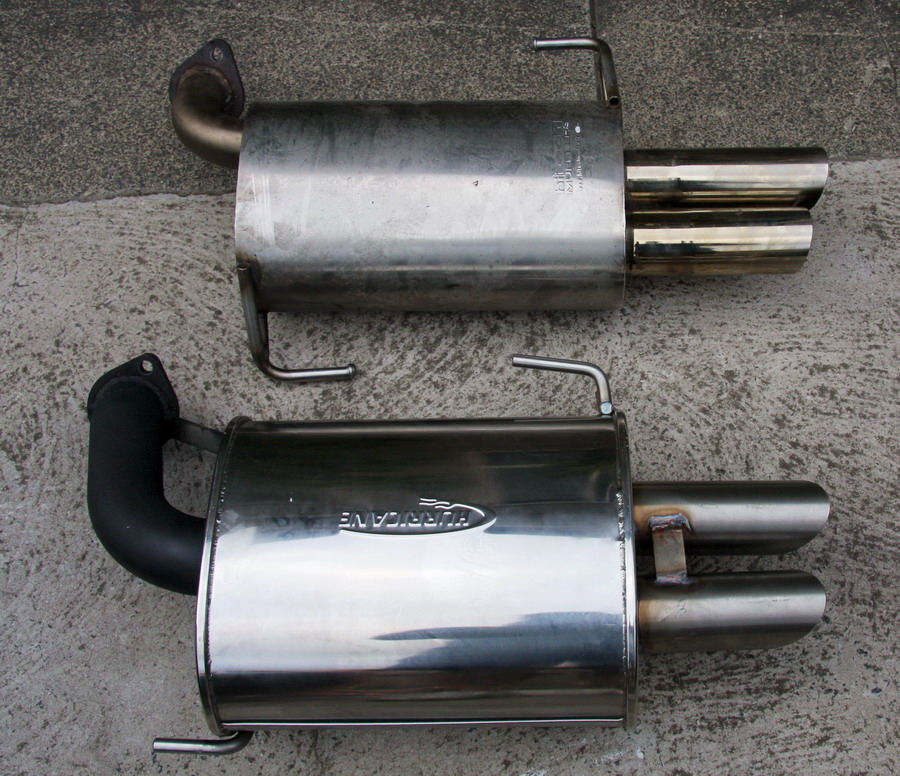 A front view comparison. Phat's is fat (left).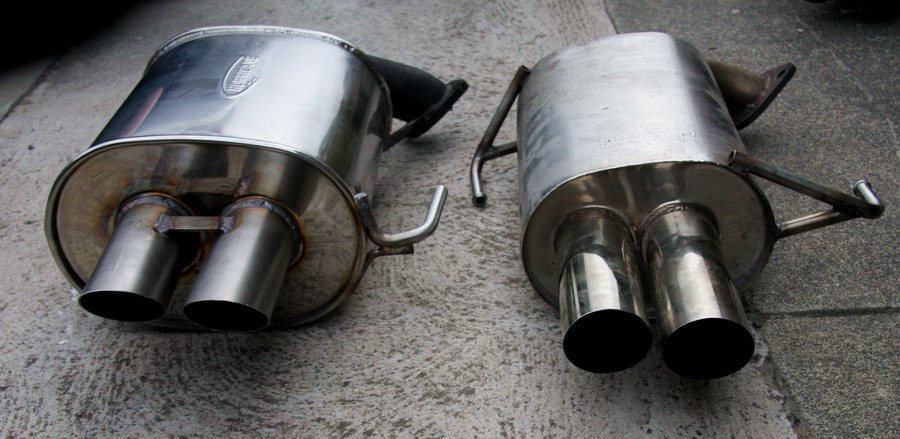 From the back. Notice the inlet for Phat's (right) is centred to provide a true Y-split. The HiTech's inlet sides to one side and diverts flow to the other side.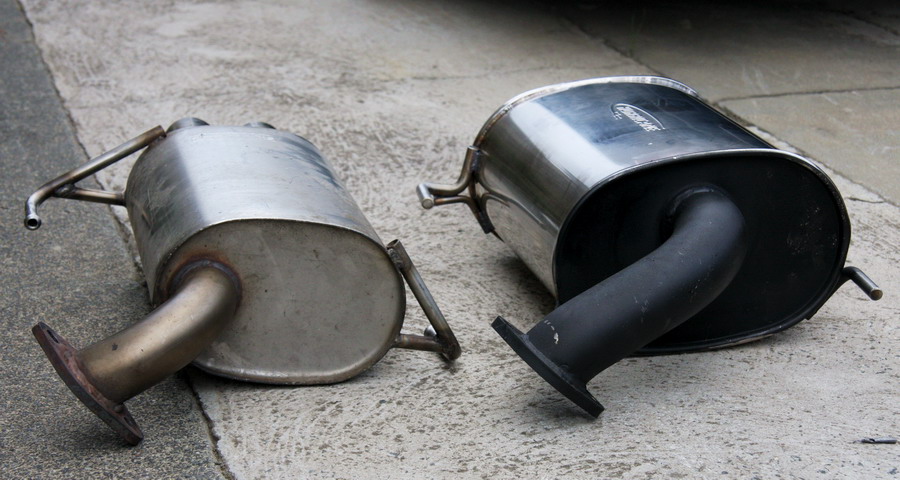 Comparison of inlet sizes. Notice how restrictive the HiTechs (bottom) are.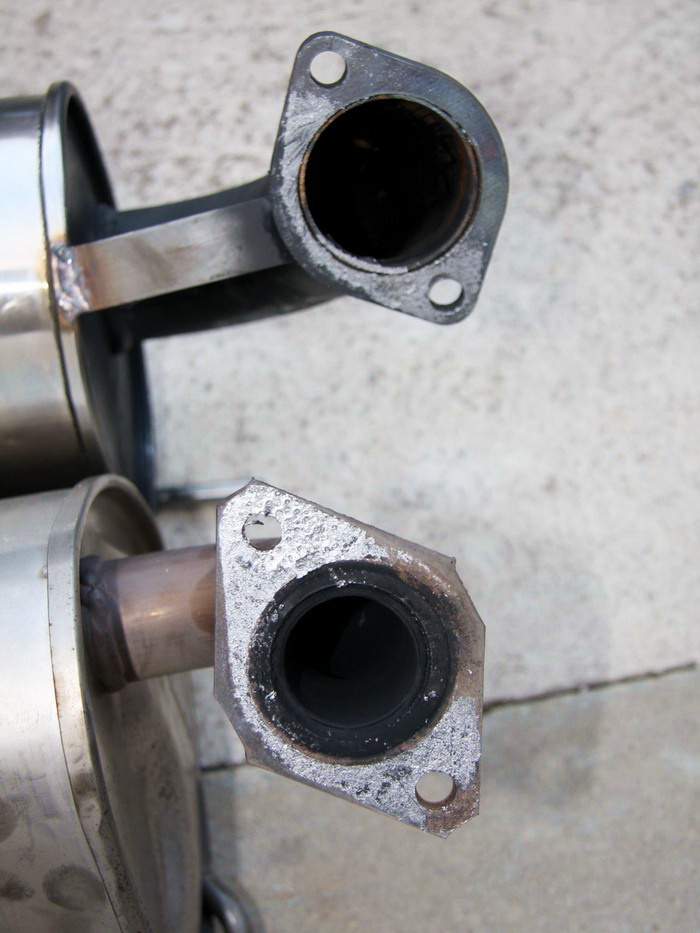 Phat's (bottom) compard to the STi/stock muffler.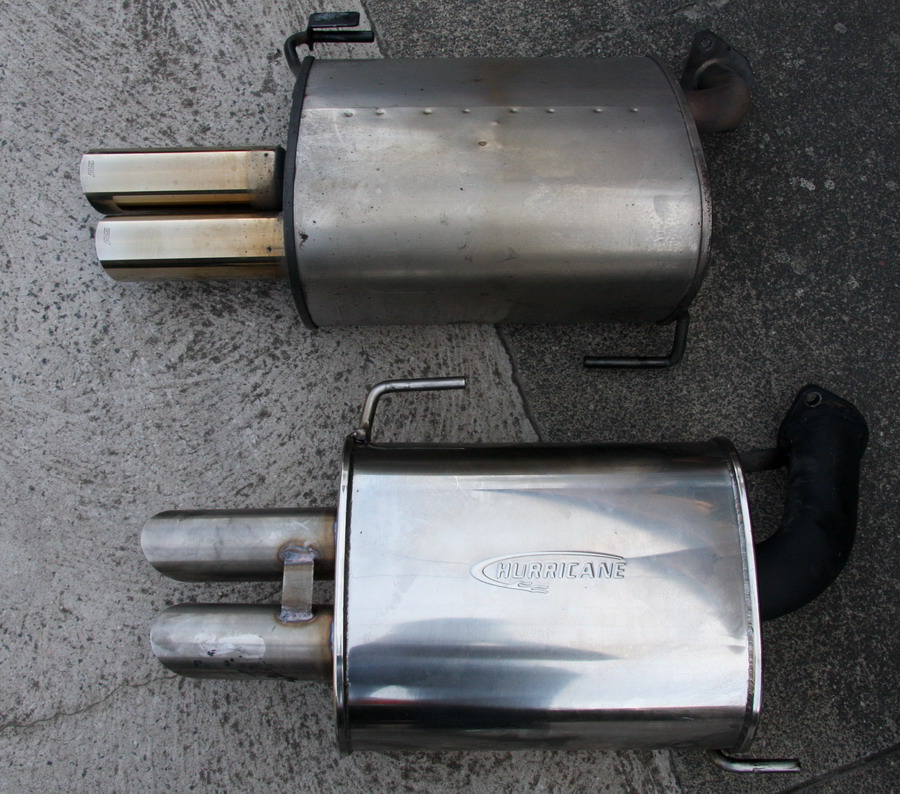 Same comparison at a front view (Phat's on the right).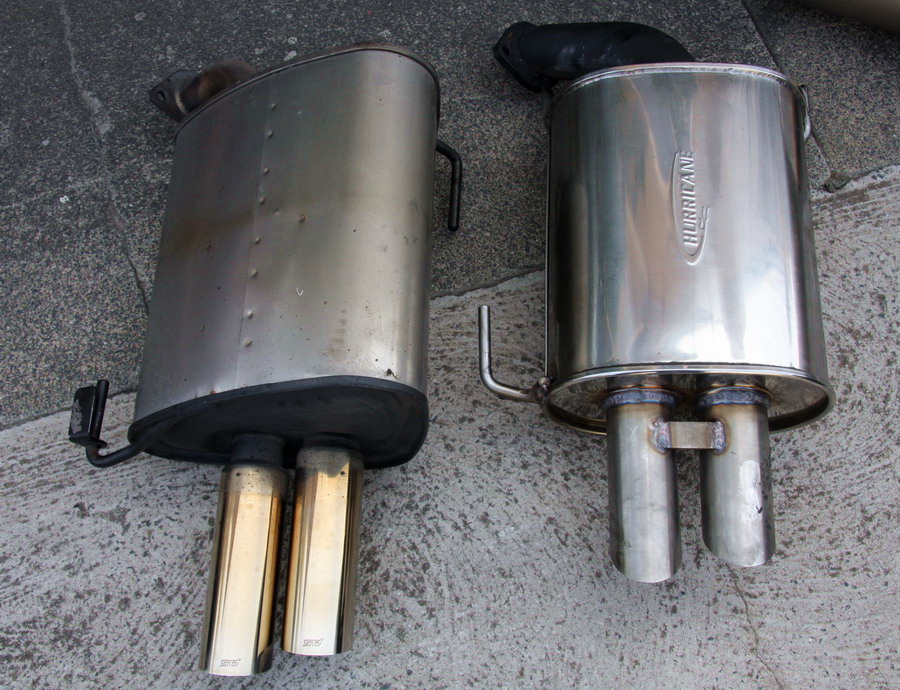 How they sit on Norm's (libsti) MY06 STi sedan.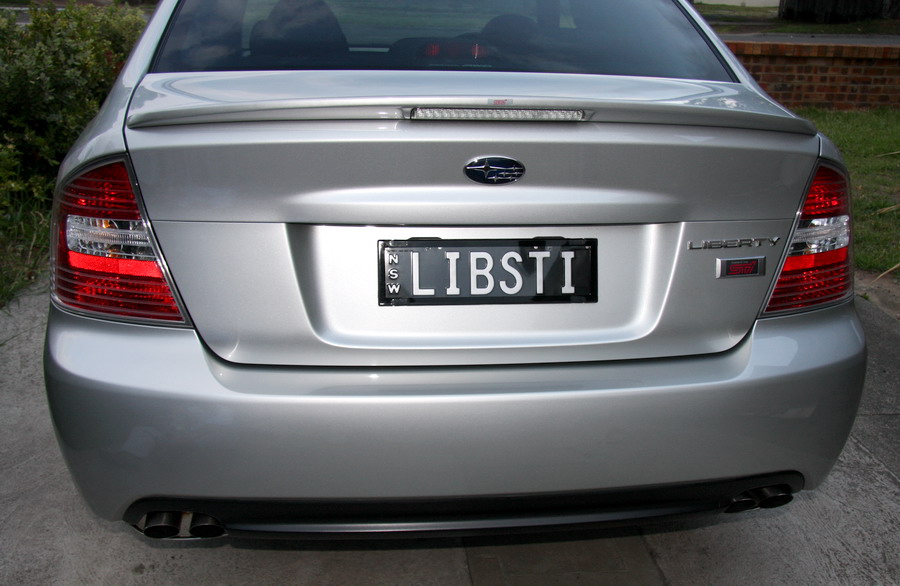 A close-up view of Phat's mufflers on Norm's car. The fitting was done off of a MY07 so it doesn't sit as snug. However that will be corrected in the final version.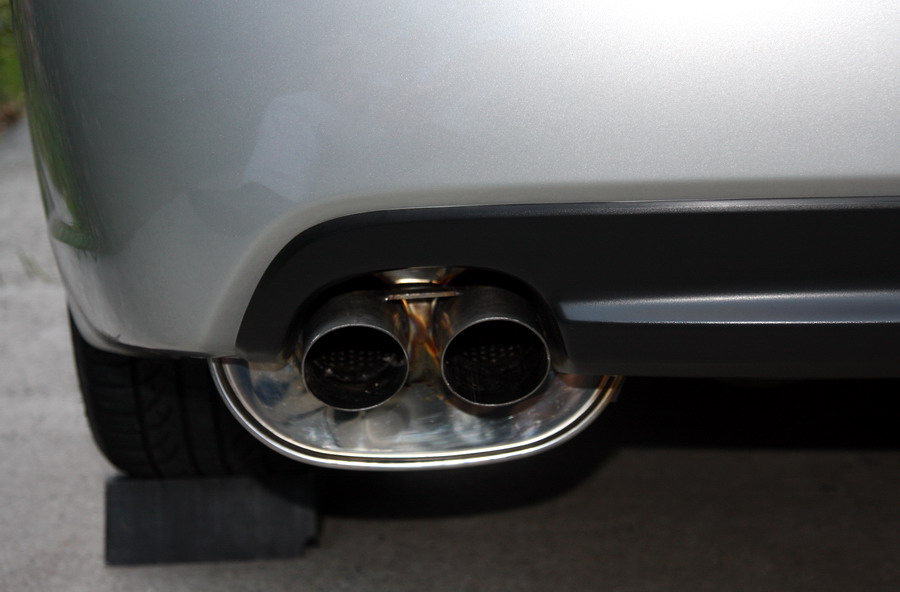 Production version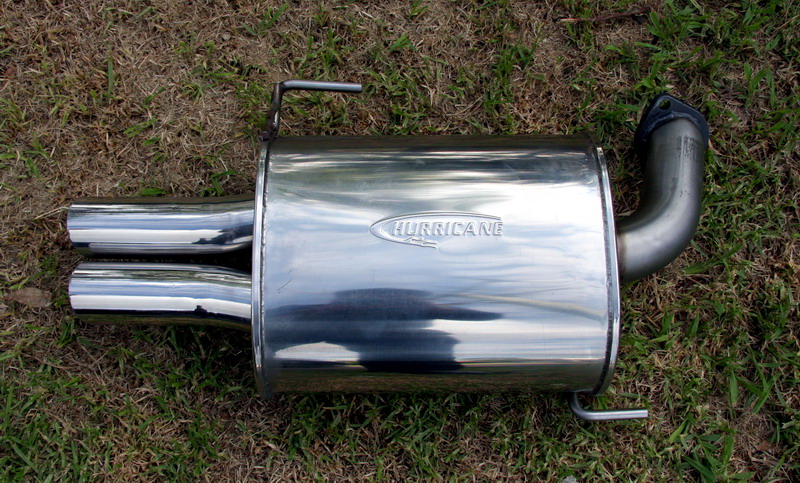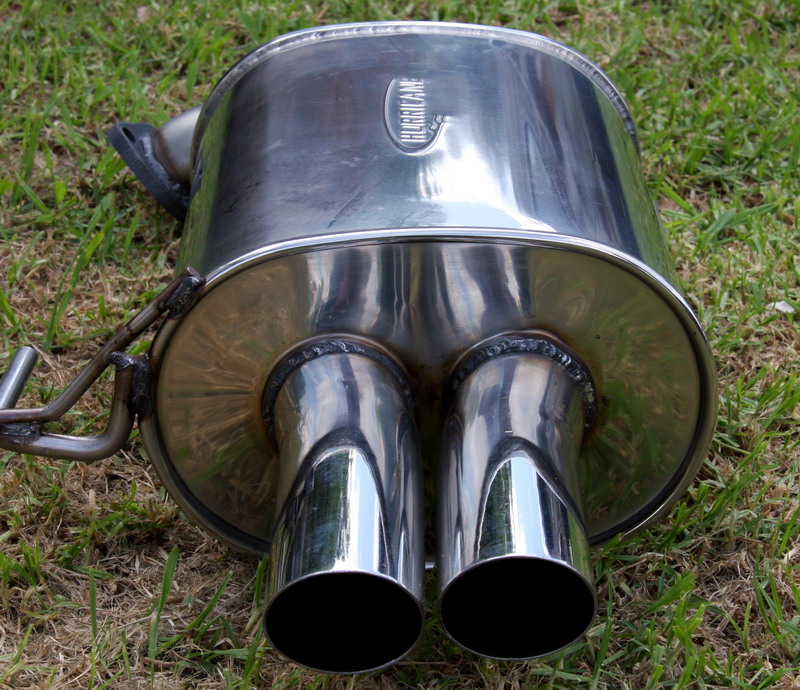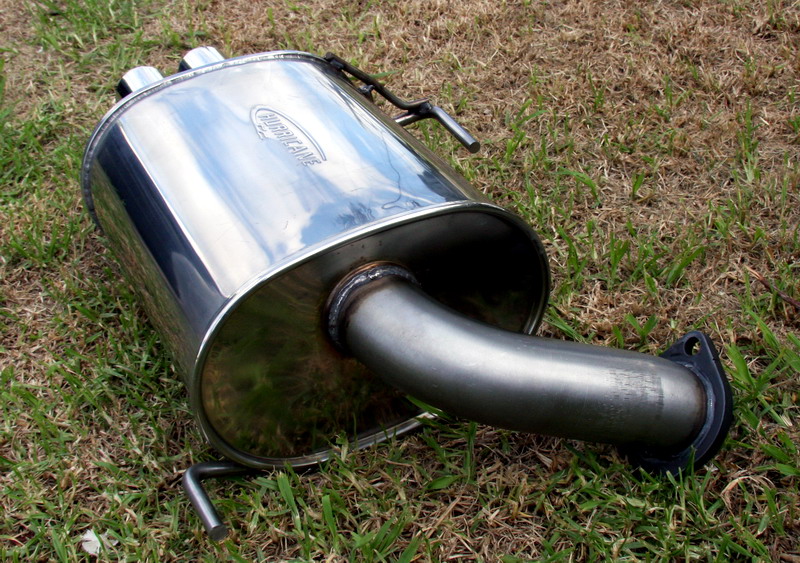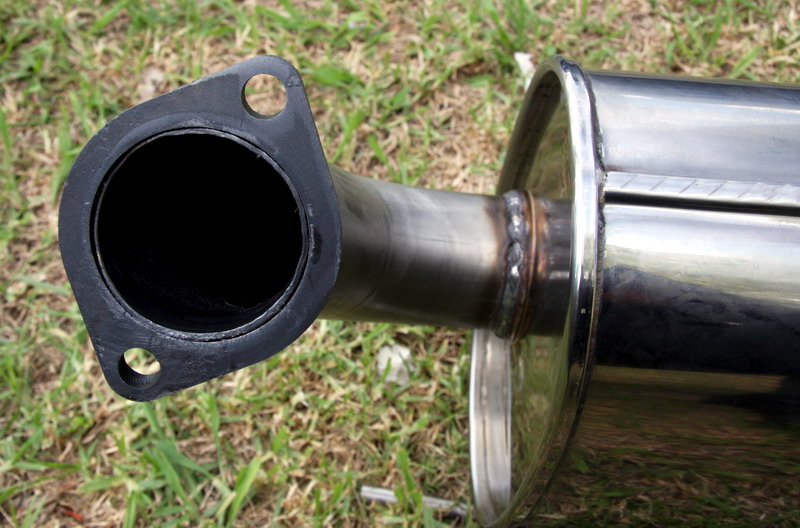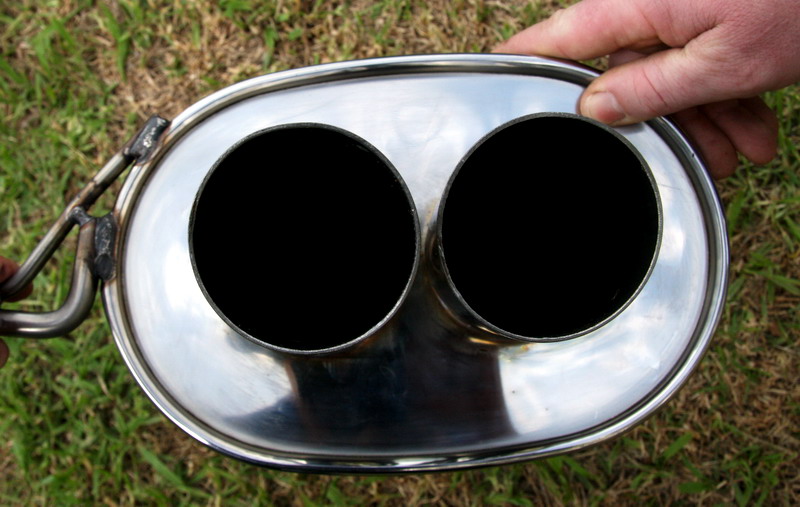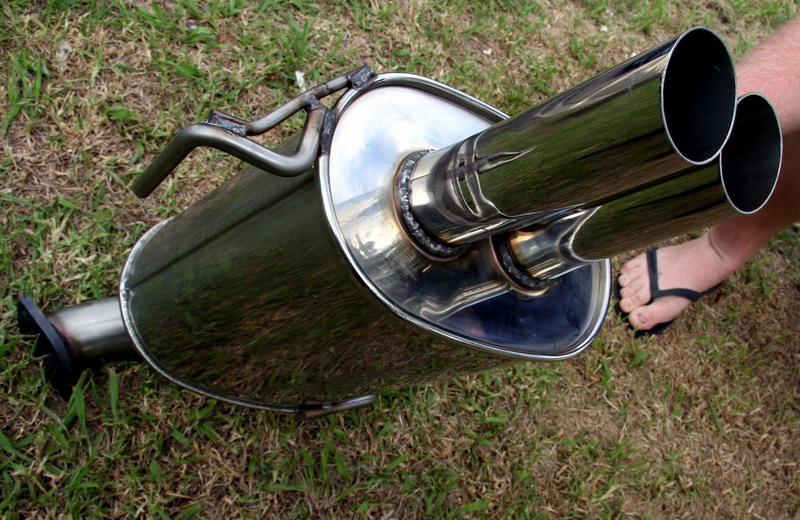 Videos
Member - libsti
Liberty - MY06 STi sedan (2.0t)
Mods - Dump pipe, centre/Y-pipe, intake, top mount
Clips -
1. Revving in idle [
http://www.youtube.com/watch?v=Xxf6mhG-oGo
]
2. More revving in idle [
http://www.youtube.com/watch?v=GCU76I7PUYY
]
3. Revving in idle with HiTEchs (ignore the missing exhaust shroud) [
http://www.youtube.com/watch?v=SAObBspljlQ
]
Member - smythie
Liberty - MY06 3.0RB sedan (3.0 NA)
Mods - Stock baby!
Clips -
1. Revving in idle [
http://www.youtube.com/watch?v=0KVqQyMKW04
]
2. Launch [
http://www.youtube.com/watch?v=pqQNfuQ8gKE
]
3. Drive By [
http://www.youtube.com/watch?v=dT2yWljunlQ
]
Member - WhiteGTB
Liberty - MY07 GT-B sedan (2.5t)
Mods - Intake
Clips -
1. Revving in idle (too much background yapping) [
http://www.youtube.com/watch?v=y5Sx44MOypI
]
2. 1st Drive By [
http://www.youtube.com/watch?v=xB4pJN-GC3Y
]
3. 2nd Drive By [
http://www.youtube.com/watch?v=LqG0S9ouh8U
]
Member - Blacknwhite
Liberty - MY07 GT-B sedan (2.5t)
Mods - Phat dump pipe, custom 3" centre pipe, HKS Panel Filter
Clips -
1. Revving in idle [
http://www.youtube.com/watch?v=wwRZQl4jGKg
]
Member - Moggy
Liberty - MY07 GT-B sedan (2.5t)
Mods - None
Clips -
1. Revving in idle [
http://www.youtube.com/watch?v=sf_gzIH8YLE
]
Member - Arith
Liberty - MY07 GT-B sedan (2.5t)
Mods - K2 Gear centre pipe, Blitz intake, Phat dump pipe
Clips -
1. Revving in idle [
http://www.youtube.com/watch?v=qMIma-pXuQE
]