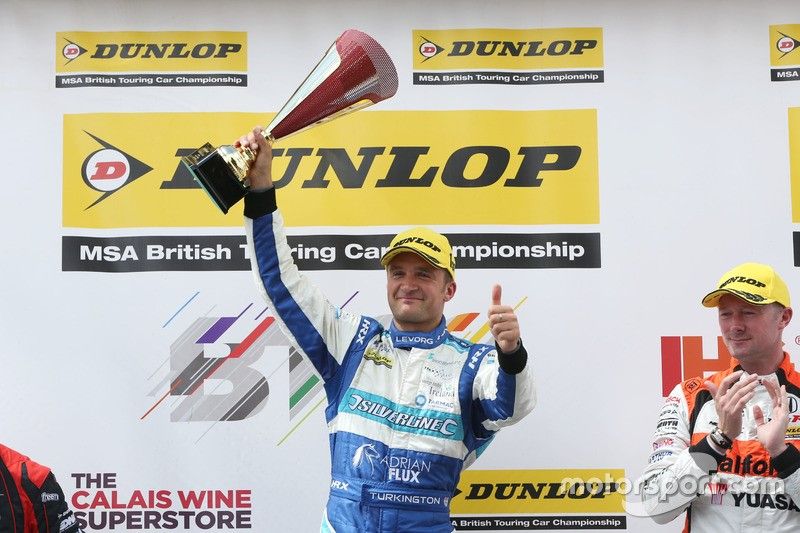 Subaru driver Colin Turkington won the first race of the weekend, becoming the first driver to score three race victories this season, after an eventful weekend at Snetterton.
Turkington's excitement after making a pass on race leader Gordon Shedden's Honda at the exit of Agostini on the eighth lap would soon turn to uncertainty however.
The race director notified the field that five drivers would be investigated post-race for a possible false start in Race 1, including Turkington. However this investigation proved fruitless and along with Turkington, Stewards decided that no action would be taken against he, nor any of the other drivers investigated.
This list of drivers included Maximum Motorsport's Stewart Lines, the Team BKR Volkswagen of Mark Howard, the TPR Ford of Martin and the Motorbase Ford of Andrew Jordan.
Turkington made his move on lap eight, diving down the inside of Shedden's Honda at Agostini and completing the pass at the next turn at*Hamilton before quickly pulling away from the Civic Type R.
After this race win, Turkington became the first driver to score three race victories this season, and moves up to ninth in the drivers' standings, a mere 50 points behind West Surrey Racing's Sam Tordoff, who continues to lead the championship now 16 points clear of Honda's Matt Neal.
"It was never going to be an easy race," said Turkington. "I got a reasonable start, but not enough to lead. I just had to be patient and pick my moment. I really wasn't expecting to win around here as I've never won around here in a rear-wheel drive car."
Another standout Subaru drive was that of Jason Plato who had taken control at the front for Silverline Subaru BMR Racing, chasing his first win of the season in Race 3, after a dramatic accident red-flagged the start of the last race.
Contact down the grid order between Mark Howard, Alex Martin and Ollie Jackson sent an unbeknownst Hunter Abbott and his Power Maxed Racing Chev' barrel rolling down the main straight, before spiralling over the barrier and into a television gantry, leaving a cameraman and several drivers including himself shaken but thankfully unharmed. This fracas came after a penultimate red flag in Race 2, which also left Abbott's car heavily damaged in a previous multi-car crash, negating serious repairs to be carried out in time for the final race before it was again, left totalled.
Pole-sitter and then-championship leader Sam Tordoff broke down before the race could restart with the BTCC seemingly providing yet another twist to the title race, as the Levorg of Jason Plato shuffled down the order for the shortened ten lap encounter.
Unfortunately Plato couldn't hang on until the end, and West Surrey Racing's Rob Collard muscled his way past on lap two to finish second, ultimately relegating Plato to fourth place, with Team Dynamics' Gordon Shedden snatching the first place last lap win, and Rob Austin taking a maiden podium for Handy Motorsport in third.
2016 Dunlop MSA British Touring Car Championship – Round 18 – Snetterton:
WATCH THE FULL BTCC RACES ONLINE FOR FREE, RIGHT HERE ON ITV:
[url="http://www.itv.com/btcc/races"]
[url]http://www.itv.com/btcc/races[/url]
[/URL]
Images: http://www.motorsport.com
For more information on Subaru locally, visit:
Subaru Australia: http://www.subaru.com.au/
Subaru 2017 Levorg:http://www.subaru.com.au/new-levorg