The third column represents possible HP with supporting mods @ the crank.
The price is quoted in USD, use that to your advantage.
I am only accepting PAYPAL payments currently, email me if you require a different method.
Shipping is $60 USD flat rate. Buddy up with a mate, and I'll do it for the one shipping price.
These are imported BRAND NEW from a trusted Jap source which I have dealt with a lot previously.
I don't know about you guys, but I know what I'm buying myself for my bday!!!
(P.S. Don't ask for conversions to AUD, I can only quote USD, if you must have me convert it for you, I can, just PM me... *paypal orders only* at this stage)
*****
5 DAY SHIPPING MAXIMUM, REGISTERED AND INSURED.
*****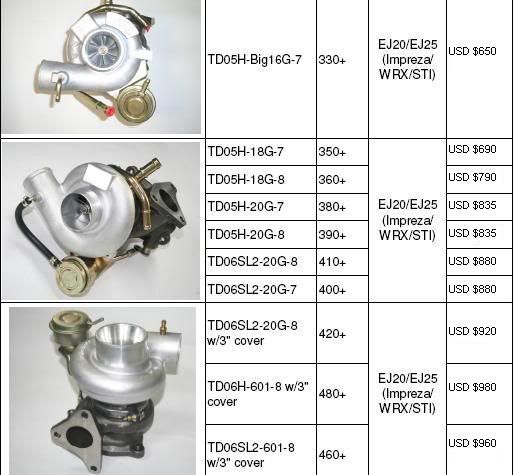 Don't ask how I can get them so cheap, just enjoy the benefits
Warranty and other information from the manufacturer:
1. If for any reason you are unhappy with your order, we accept returns, exchanges, or replacements 7-14 days after you received the package from us, however, the goods have to be in good condition and unused. Please note, unless the product is faulty, it must be returned at your own expense (International postage), the cost of which will be deducted from your refund. Upon receipt, the product will be inspected and a refund will be processed within 30 working days. If the product is found to be in an unreasonable condition, we reserve the right not to accept it. Nikkeru Supootsu is not responsible for any shipping charges.
2. All products purchased from Nikkeru Supootsu are covered by a 6 months warranty. We will repair on the condition that the product can be rebuilt.
3. Accidental damage and damage caused by misuse is not covered by the warranty, and therefore will be charged.
The reply email from the company regarding my questions as to the origins of the turbos:
"Hello Chris,
Ok, the turbos are assembled by my company, and we have the VSR machine to balance the turbos to 160,000 rpm in most cases unless higher rpm is needed.
The parts are from Japan and Taiwan or manufactured by us, and we assemble the turbos ourselves.
We have the professional engineers to do these jobs, and we also do turbos for OEM.
Therefore, the products must in good quality, so please don't worry about it.
We provide 6 months warranty.
If you get any problem with our turbos, we can do repair or exchange, but please read the terms and conditions above."
As I said earlier, they have proven themselves with other products, I will be running one of their turbo's soon too if that makes anyone feel better. Their warranty is decent and their pricing is fair. It is no different to buying any other TD or GTPUMPS...