Here we go again.
Please indicate below if you'd like to order a club tshirt if we do another run.
As a reminder, the sizes available are:
Code: Select all

===== Shirt Sizes =====
SIZE: XS S M L XL XXL XXXL
HALF CHEST: 51.0 53.5 56.0 58.5 61.0 63.5 66.0
BODY LENGTH: 69.0 71.5 74.0 76.5 79.0 81.5 84.0

KIDS SHIRT SIZES NOW AVAILABLE
Code: Select all

====KIDS SHIRT SIZES====
SIZE 4K 6K 8K 10K 12K 14K
HALF CHEST 32.5 35.5 38.5 41.5 44.5 47.5
BODY LENGTH 43 47 51 55 59 63

"Shirt description 210 gsm, 100% cotton
Shoulder seam tape to reinforce the seam for stability with all over twin needle stitched for strong and comfortable finish."
Estimated costs
White: $25
Colour: $32
(We need to get about 25 of each to keep the prices at this level.)
The colours are: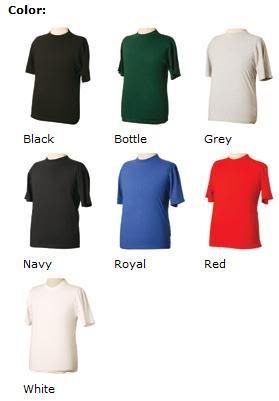 We subsidised the postage a bit on the last run, so it will be $5 for one shirt, or $7 for two if we have to post a shirt to you.
Edit. More than two shirts will be posted via Express post, so we can trace them if they go walkabout. A 3kg Express post bag (about $11) should hold a few shirts.
ORDERS SO FAR - to 6-Jan-2009
White
1x S (D_Liberty)
2x M (Arith, invigorazn)
6x L (gtspec, jim s, legacy rsk, senator, MH3.0R, the gardener)
3x XL (senator, 2x overl0ad)
2x XXL (adam)
Total White = 14
Black = 13
1x 4K (Arith)
2x 6K (Trieu, Arith)
4x M (Trieu, libsti,Arith, Mick_Rex)
4x L (gtspec,jim s, senator, the gardener)
2x XL (libsti, senator)
Navy = 2
1x M (Trieu)
1x L (MH3.0R)
Royal Blue = 4
1x 6K (blacknwhite)
1x M (Mick_Rex)
1x L (EskimO)
1x XXL (blacknwhite)
Grey = 5
1x 4K (Trieu)
1x S (Spec B Wgn)
3x M (Trieu, Arith, Spec B Wgn)
Red = 5
1x 4K (D_Liberty)
1x XS (D_Liberty)
1x S (D_Liberty)
1x L (the gardener)
1x XL (libsti)
Total coloured = 29