1x set of 4 pot front and 2 pot rear brake calipers from a bug eye (MY01-02) WRX.
Includes:
Brake pads with a fair bit of meat left on them
Bolts for mounting
Banjo bolt for brake lines (lines not included)
Pins
Backing plate
Need a good clean and could do with a new coat of paint.
Passenger side: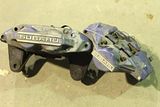 Driver side: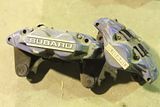 Sold.