Hey all,
Thought I would start a thread for my wagon, as despite not intending to mod it much, it seems I quickly forgot about that...
Suspension and Handling Mods
- BR BC Coilovers
- Cusco Front Strut brace
- Cusco Rear swaybar
- Summit Rear Strut brace
- Upgraded LCA bushes
- Cusco Front swaybar
Cosmetic Mods
- TommyKaira front mesh grill colour matched, with GT badge
- JDM stickers
- Debadged rear, replaced with Subaru GT badge.
- DAMD rear wing, colour matched
- Valenti rear tail lights (dark smoked)
- Rear apron
- Headlights by Leo (hks180)
- Rear reflector LED upgrade
- Strobe pack indicators
- Valenti centre tail light (dark smoked)
- Stance SC-7 20" black rims
- Nitto Neo Gen tyres
Power Mods
- Invidia downpipe (catted)
- Invidia Q300 cat back
- Kido tune
- AVO TMIC
Interior:
- Prova Si drive knob
- STI gear knob
Future plans:
- More chassis stability, Cusco Power brace.
- Rear apron
Anyway, it is a MY10 Libwagon, in manual. It was quite hard to find, but I was lucky - I got the colour I wanted, with only 35k kms on the clock.
I had it sent down from Brisvegas by Car Search (thanks Ray Jenkins), who pretty much did everything including rego transfer, inspections, transport, etc.
OK, so it starts as a completely stock wagon, the only mod being copious amounts of dog hair in the back.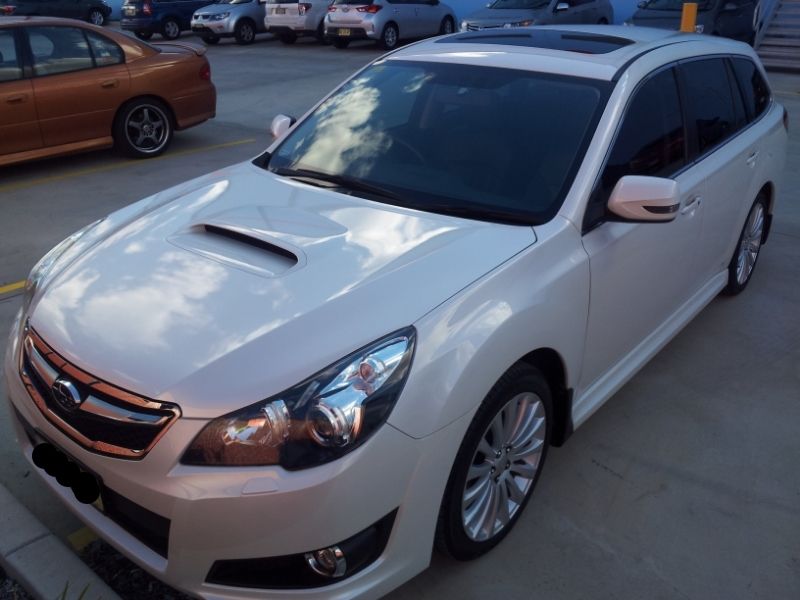 My first mod (not really a mod) was to snag some plates.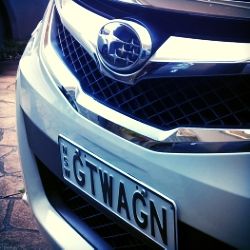 Also, drift spec fluffy dice.
Today, I had Moar-Low installed. A set of BC BR coilovers helped with the stance (hard to tell from the crappy pics, sorry).
This,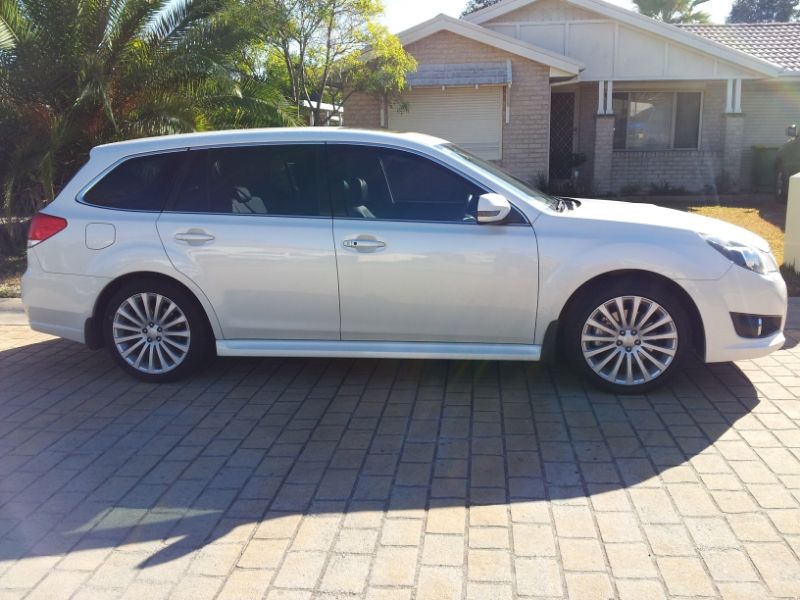 to this.
Just got back from a run up Springwood Rd, and it is a vast improvement over stock - flat through corners, and the ride is still fairly plush (running 8 on the front and 10 on the rear).