Hey guys,
So i'm finally going to a profile, about time.
I purchased my car about a year an a bit ago, from an hilarious Indian guy
So I got modding straight away...
Stage 1
- 03/06/2011
Advanced Headers Down Pipe
Race 200cel Cat
Megan Racing cat back quad tip
Road tune from HITMAN 150kwatw
Stage 2
- 05/08/2011
Same setup but with silicone inlet PRS
MSR full dyno 177kwatw
Mick said that dump was not that great & mufflers are a little restrictive.
Stage 3
Xforce Down pipe with MSR spiltter
200cel Cat
Invidia Q300 Quad tip Cat Back
Kinugawa TD05 18G 7cm
Kando Equal Length Header - Hi Temp 1200c
AVO Top Mount
Turbo XS 50/50 Bov
MSR Tune - 216kwatw
Stage 4
Same as stage 3 with
MSR Water to Air Intercooler - I'm so gad I did this..I'm very very happy with it
Grimmspeed 3 port Boost solenoid
MSR Tune - Clutch slipping really bad so didn't getting a proper read out...
Stage 5
Engine:
MSR Custom CP pistons
ACL race bearings
Super Tech 1.0mm Oversized Valves Nitrated
ARP custom age 11mm head stud kit
Nitto H beam rods
Cosworth springs
Full master OEM gasket kit
OEM timing belt
OEM water pump
MSR Crank oil re- phasing
Version 8 JDM Spec C BIG Port Heads Single AVCS(thornleigh cylinder heads - CNC'd valve seats) MSR Polish & Ported as well
Stage 2/Kelford Cams - 264/260 Duration, 10.70mm/10.20mm Lift
New cam sensors to suit JDM heads
Mishimoto Oil Cooler with Tomioka Lines & Sandwich Plate
42 Draft Design Ultimate Catch Can
42 Draft Design Stealth Catch Can
Mishimoto Radiator
Billion Radiator Hoses
Tomei Exhaust Cam gears
Killer B sump kit
Induction:
Blouch 2.5XTR Dominator 8cm
83mm KS Tech CAI
Kobe Silicone Inlet
Deleted Air Pump
Custom MSR Tumblers porting housings TGV Delete
Kobemotorsport Full plum back BOV
Pierburg 3 port Boost Solenoid
MSR Water to Air Intercooler
- Frozen Boost(AWESOME)
700CFM & 600hp kit - meziere water pump
Type 26 Core
Type 118 Radiator
DIY - Water/Meth Sprayer
3 Nozzles to Front radiator & oil cooler core with a Hobbs 10 psi pressure switch
Stage 6
New STI Half Cases
MSR Closed Decking - Recessed Insert
Double O-ring's (Block & Heads)
MSR 14mm Studs
K1 83mm Stroker Billet Crank
CP 99.5mm 9:1 Pistons
Nitto I-Beam Rods
Roger Clark 1.5mm Head Gaskets
CNC'd Ported Heads
+1mm Oversized Valves
Tomei Valve Springs
Cosworth 278/274 Camshafts
Induction
New Ceramic Bearing Blouch Dom 3xtr/ 3"Inlet & 10cm(Modified Rear housing to reduced exhaust back pressure) = 1:1.5 Ratio
Torque Solutions Timing Belt guide
New Jim Berry Clutch
New ID1300's
Everything else same as last build
Exhaust
Xforce 3" Bellmouth Down Pipe Ceramic Coated 1200c
xforce hi flow cat/mid muffler to quieten it down from the bigger turbo
Invidia Q300 3" Catback Exhaust quad tip
Kando Equal Length Headers Ceramic Coated
Fuel
Walbro 460lph Intank with CJM Bilet Holder
DW Hardwire Kit
Works Engineering Fuel Regulator Stage 2 with DIY TGV Fuel Pressure sensor 100psi
ID1300's Injectors
Drivetrain
STI Short Shifter
Jim Berry Clutch 3500lbs & Carbonetic clutch plate
Front JDM 2011 Spec C LSD Diff
Plated Rear LSD Diff
Xtreme Lighten Flywheel - To be installed
Brakes
Cusco Brake stopper
Brembo F&R powdercoated Orange
Front DBA 5000's
Front INTIMA SR pads
Front Hel Braided Lines
Rear DBA Street Series T3
Rear Stoptech Ceramic Pads
Rear Stoptech 4 piece Braided lines
Suspension
Ohlins DVF Road & Track Coilovers
Whiteline Front & Rear adj swaybars
Whiteline Roll Centre Kit
Whiteline Anti-Lift Kit
Whiteline Front Gearbox - positive shift kit bushing
Whiteline KCA399 Rear Control arm upper outer bushing (camber correction)
Whitline Front & Rear Swaybar Links
Whiteline Rear diff cradle bushings
Whiteline Rear Diff - mount in cradle bushing
Whiteline Rear adjustable lateral arms
STI Front strut Brace
Rear Carbing strut Brace
Cusco Power Brace
Exterior
Enkei Tenjin 18x8 +35 - Bridgestone RE003 225/40/18
Front & Rear Guard rolled - Sydney guard roll
Track Wheels - Orange powder coated Rota torques 18x8 with Prodrive center caps - Toyo Proxes R888 225/40/18
Front Lip with STI badge
Rear Boot spoiler Replica JDM
Honeycomb Grill
ABS & Battery Subaru JDM Covers
Tune By STI Badge(Thanks Mark)
Beatrush by Laile Engine Undertray
Interior
ECU Datascan(coming soon)
LED Interior lights
Tactrix Cable
I think that's it
Full Flex Fuel & Stage 6 Motor Setup and turbo98Ron = 305kw 21psi
E85 = 362kw 21psi
Pressure Ratio 1:1.5 (Boost/Exhaust Manifold Back Pressure)
Time to crack that 11sec 1/4 Mile
Current setup Stage 6
Stage 5 Graph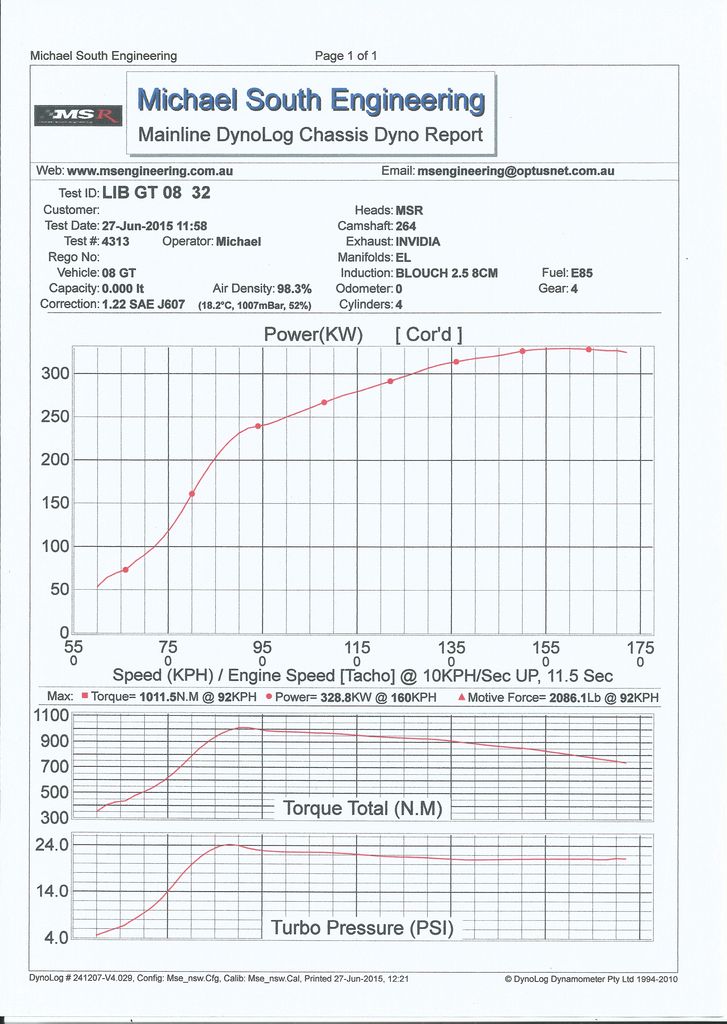 This is my graph of Kando TD05 18g vs New Blouch 2.5XTR....Same spool up time....CRAZY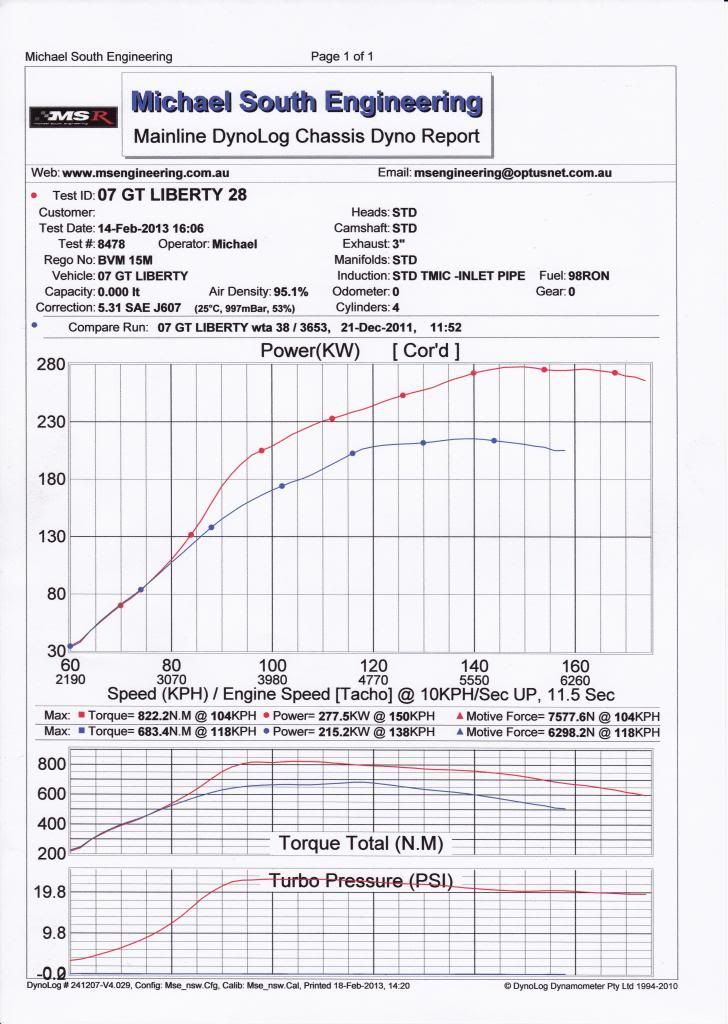 This is my graph of Stock Lib GT vs New Blouch 2.5XTR
This is my graph of Revised tune New Blouch 2.5XTR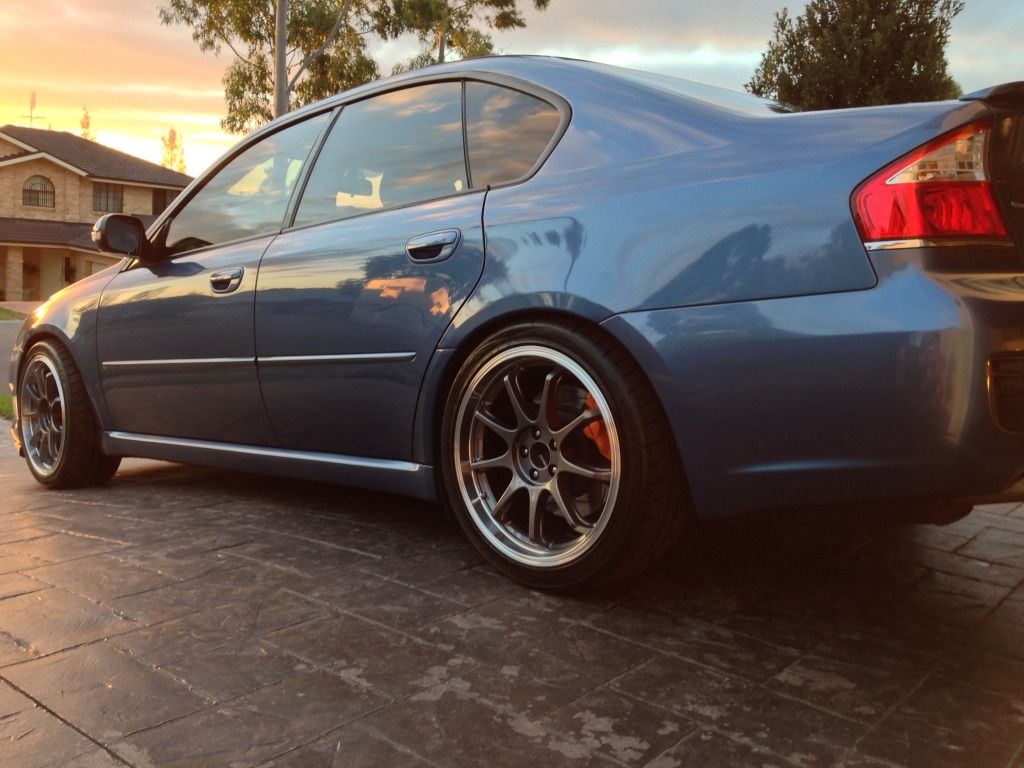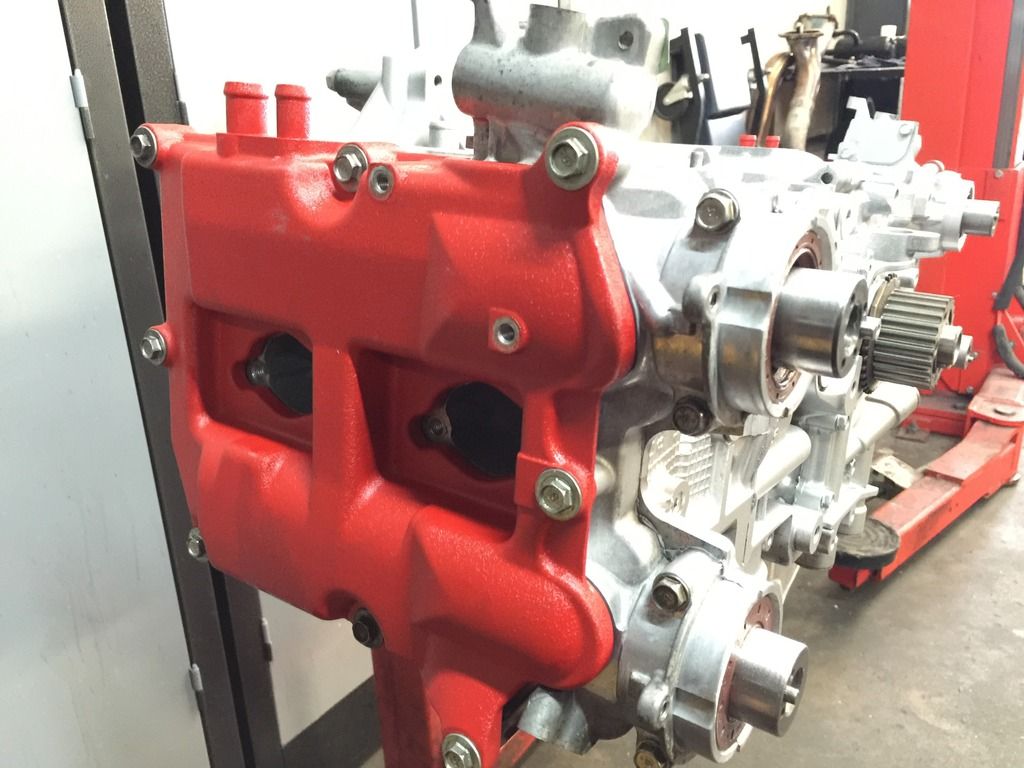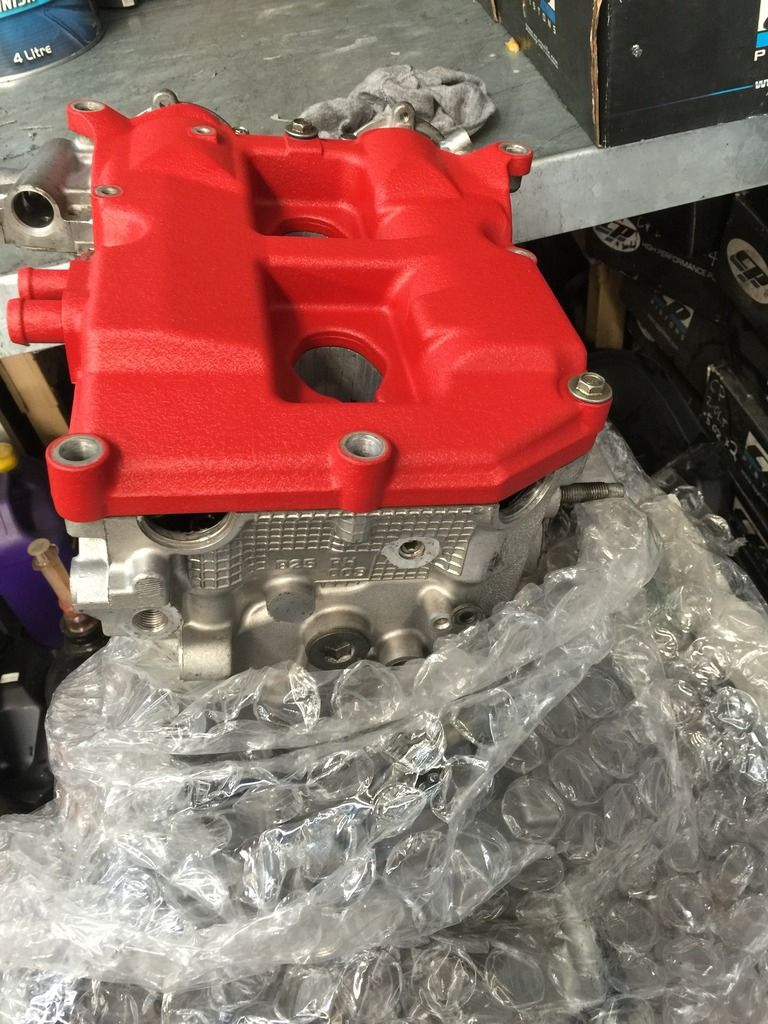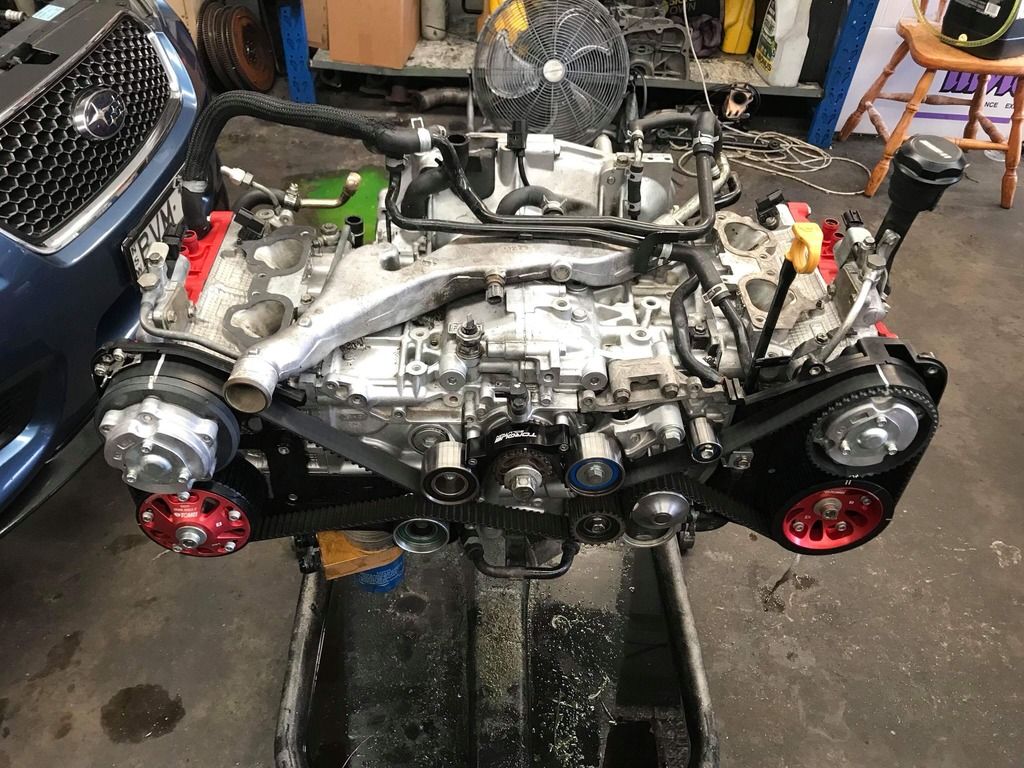 275awkw 98RON
I will update with more details as we go
I do get lazy though...
Cheers Jack