[NB: Sorry for the large photos. I re-sized them all once, but they're still too big. I haven't the patience to re-size them again, so if you want to see them properly right-click on them, save and view].
What It Is
Member – Corsair
Vehicle - MY09 Liberty 2.5i Luxury Pack
Body - Sedan
Colour – Pearl White
What I Did
First of all, a big thank you to Ric and everybody on here for the time, inspiration and advice provided. This is a wonderful, encouraging forum and without you all, I wouldn't have had the ideas and guidance to even attempt to modify my car. I love the shape of these Gen IV models and my hope is to make the car as clean, sleek and minimal as I can (given my heavy use of it and budget constraints).
I bought my Subaru Liberty in December 2010 with around 47,000kms on it as a work/personal car. Consequently, I avoided a turbo as I did not want to have to put in 98 Ron when driving up to 1000km a week. Even when driving it home from the dealer, I was very impressed due to the internal build quality, the chrome ringed gauges and the rail-like handling.
The day I bought it…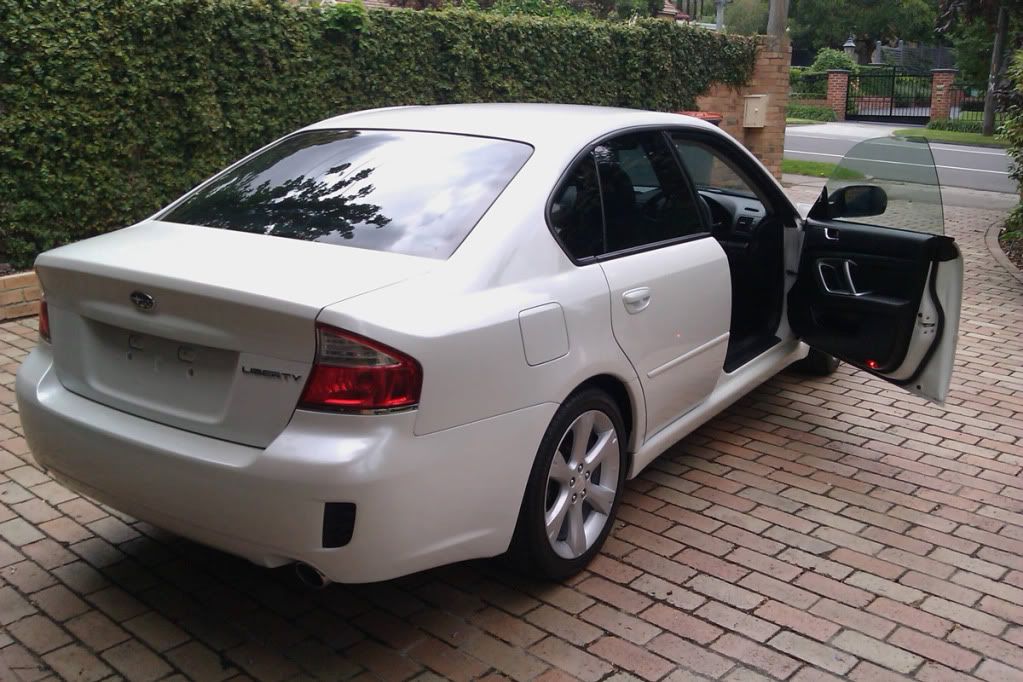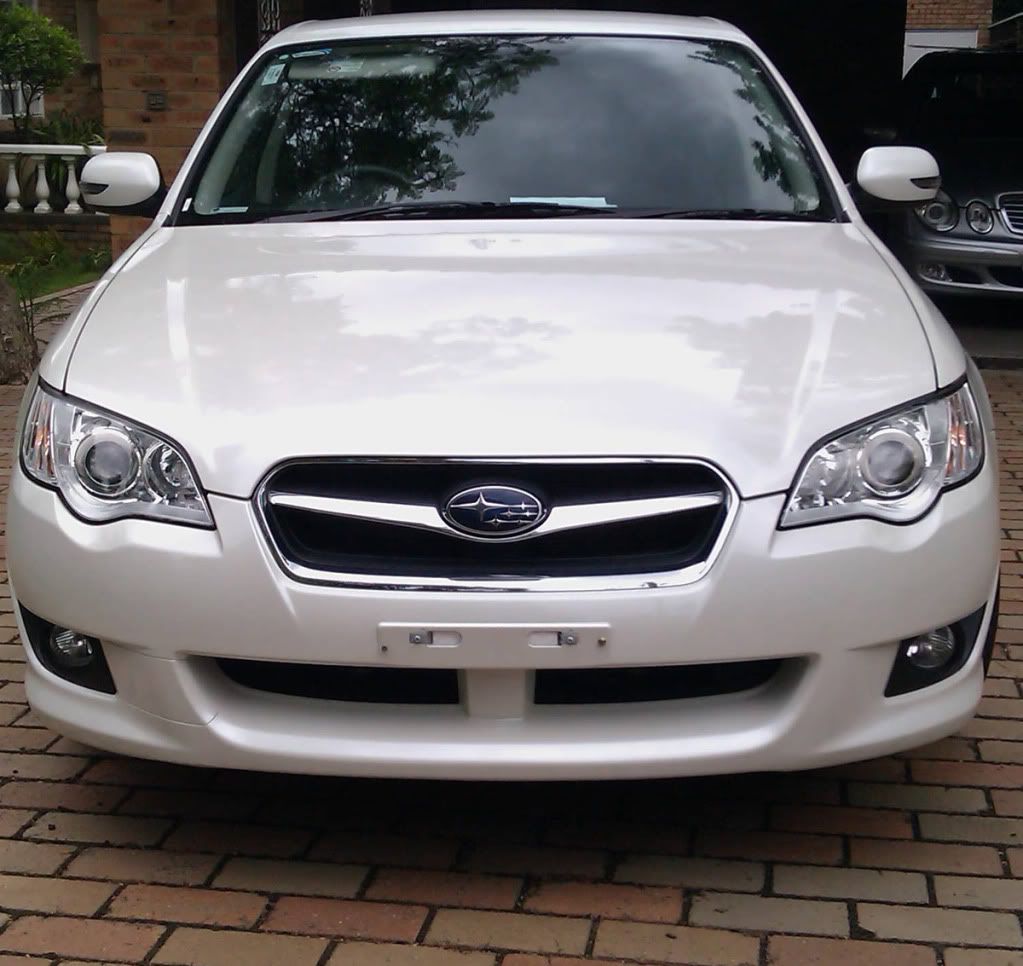 Obviously as a 2.5i, it was never going to be a performance vehicle and due to the amount of kilometres I drive, I was wary of modding it, but I still couldn't accept the lack of some things that I thought should have come standard from the factory. First of all, I did a home-made number plate spacer mod to make the slim line plates sit in the middle of the bar and went to Docklands and bought the full set of carpet mats.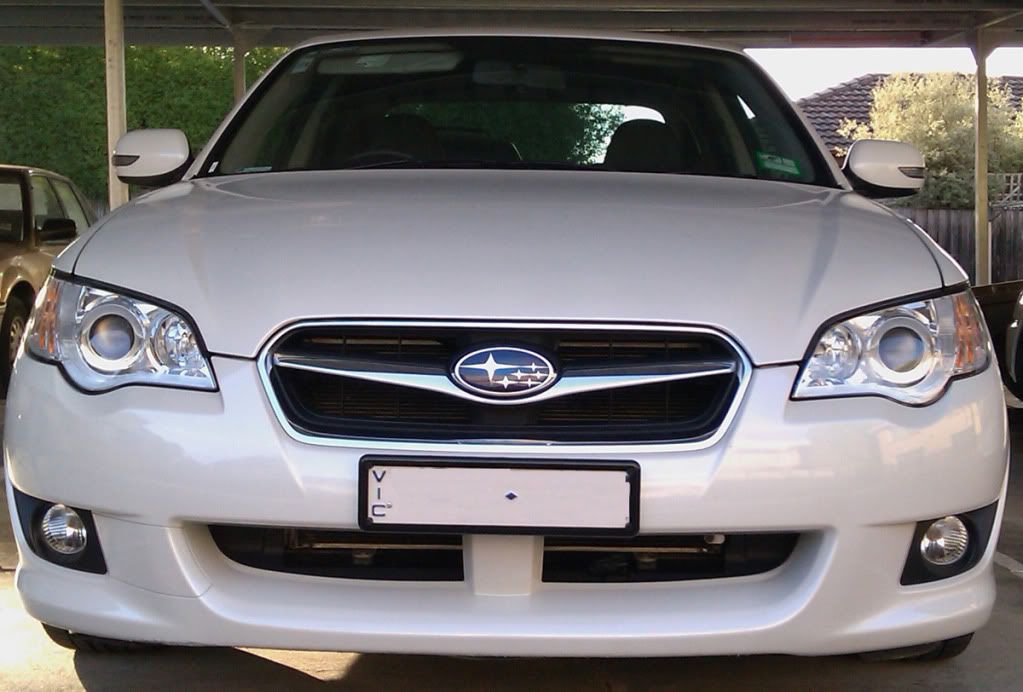 I then wondered if darker wheels would be better than silver, and decided not to wash my rims for a while to see how that looked…
Stupid basically...So I bit the bullet and ordered these with the optional centre and valve caps…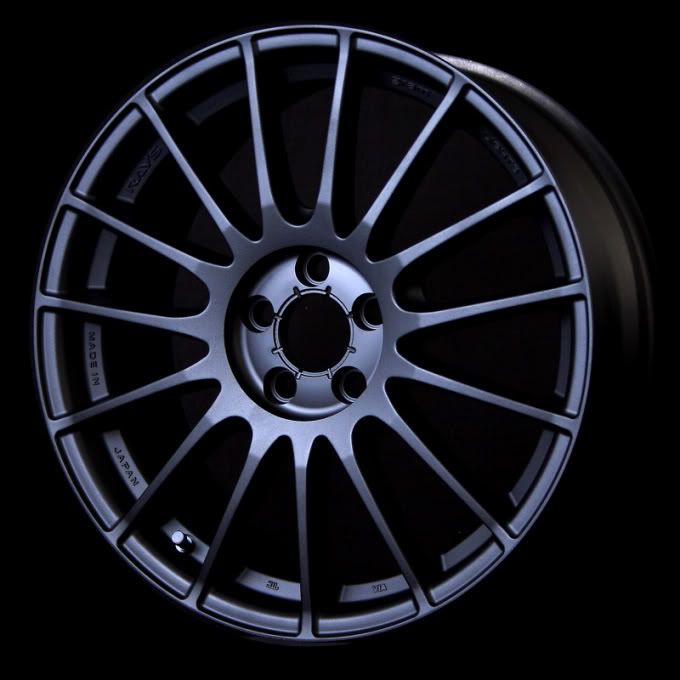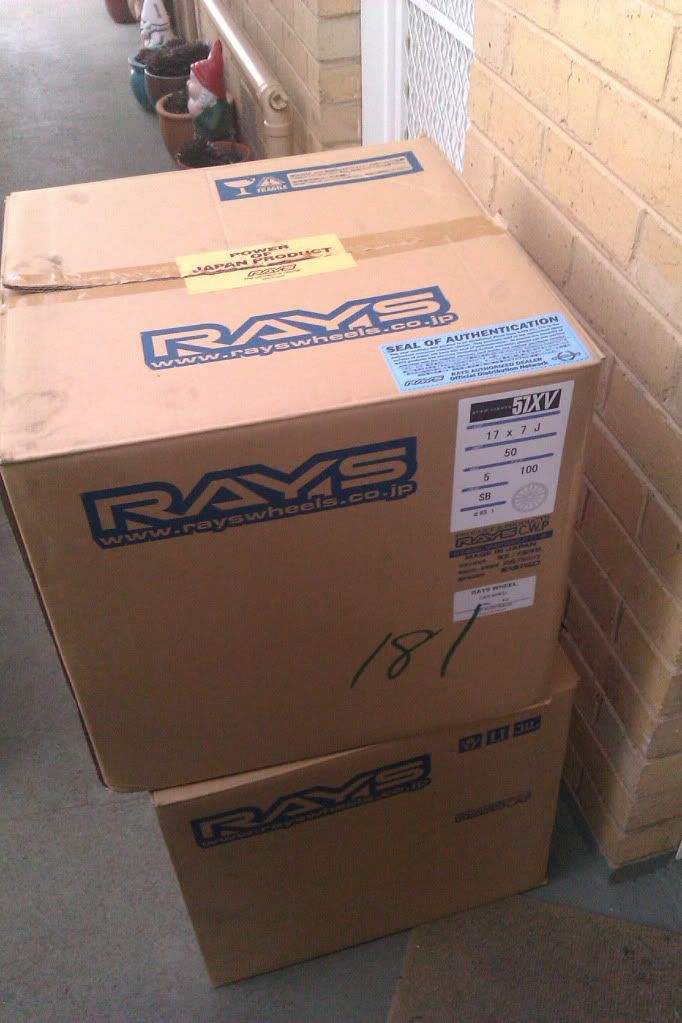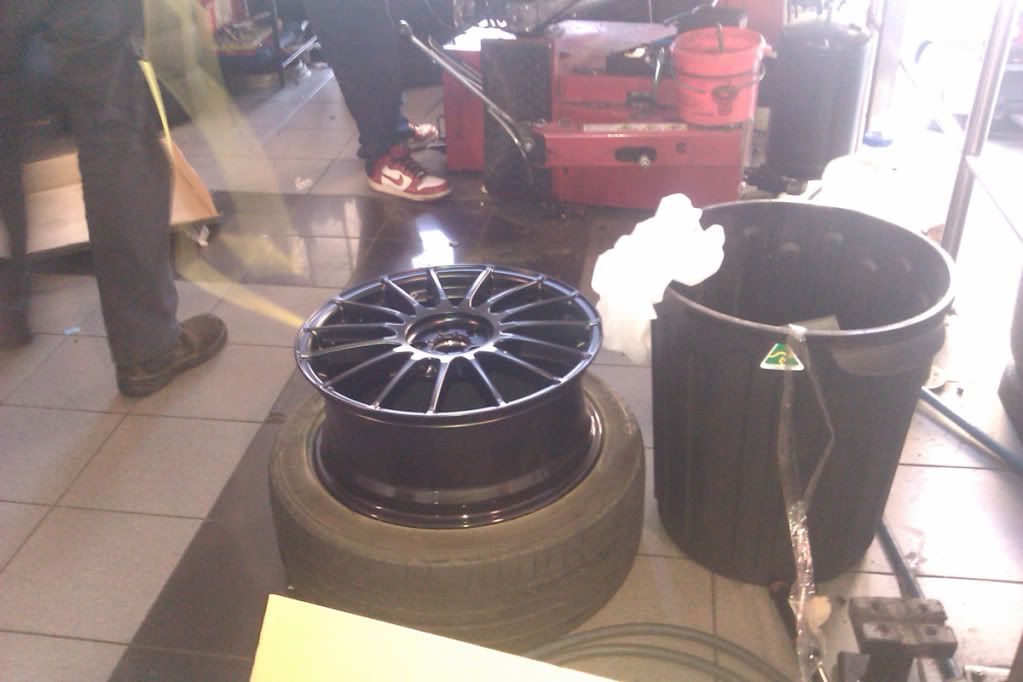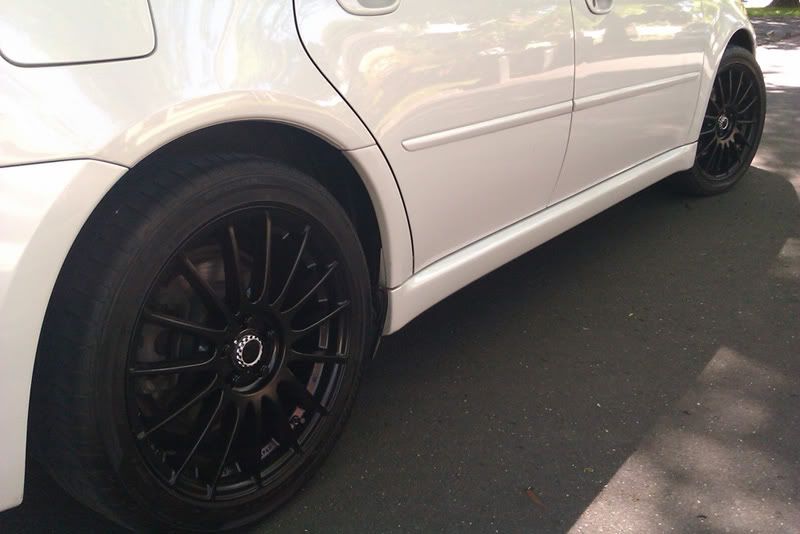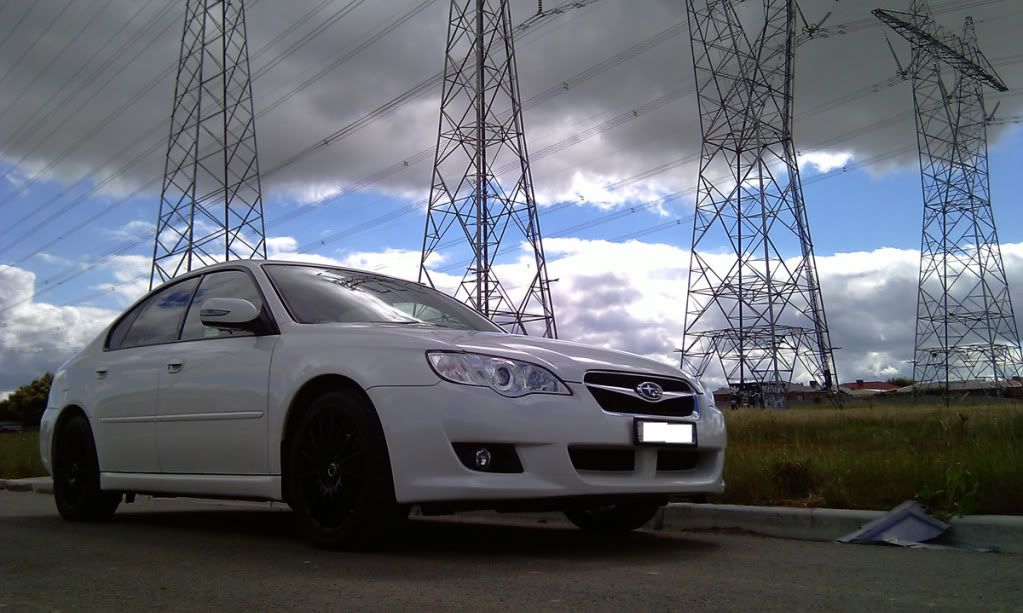 I was very happy with these rims, but they really emphasized the lack of darkness on the front two windows...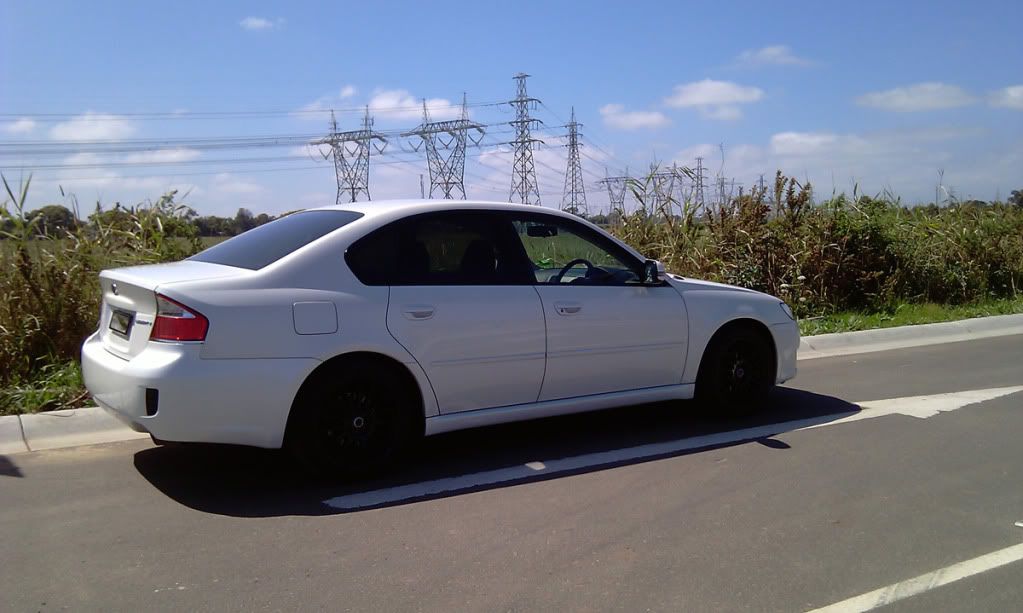 So I went to Rob Tait to get the front two windows tinted. Rob (as mentioned elsewhere) was great and although he kept my front two windows legal, they are nonetheless darker, cooler and certainly allow less UV in...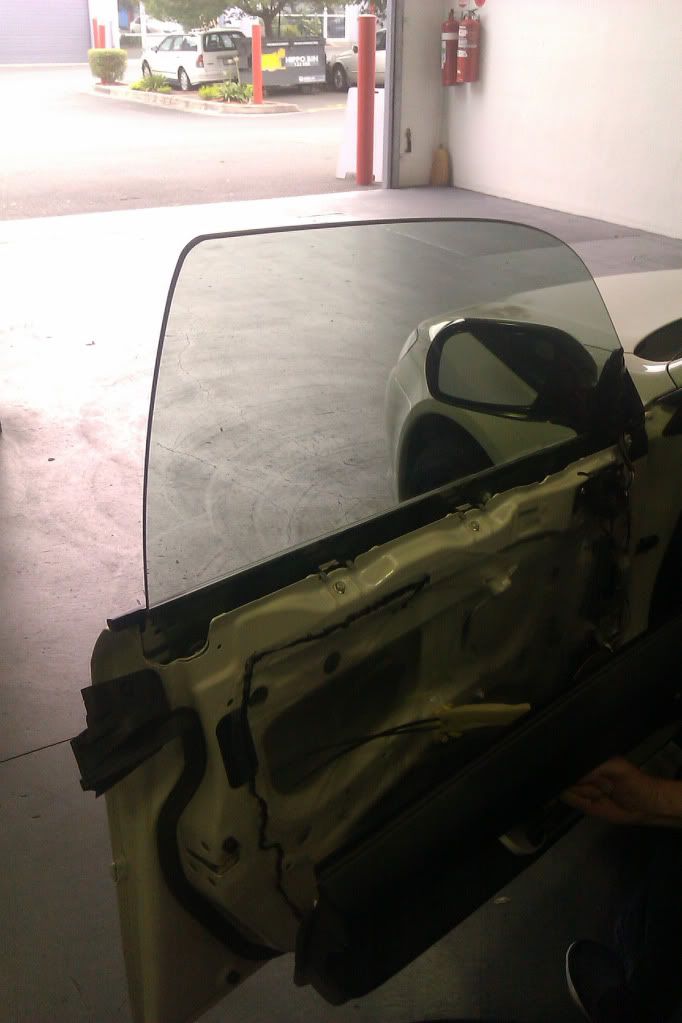 Having done this, I knew black-on-white was where I wanted to go, so I contacted Phat for a Corazon grille…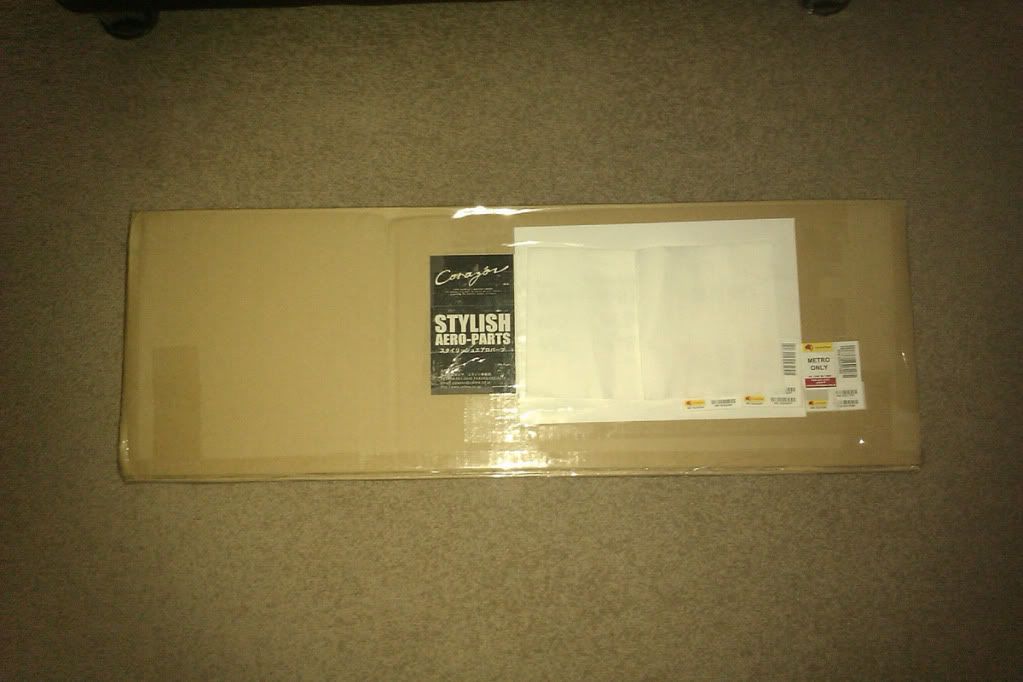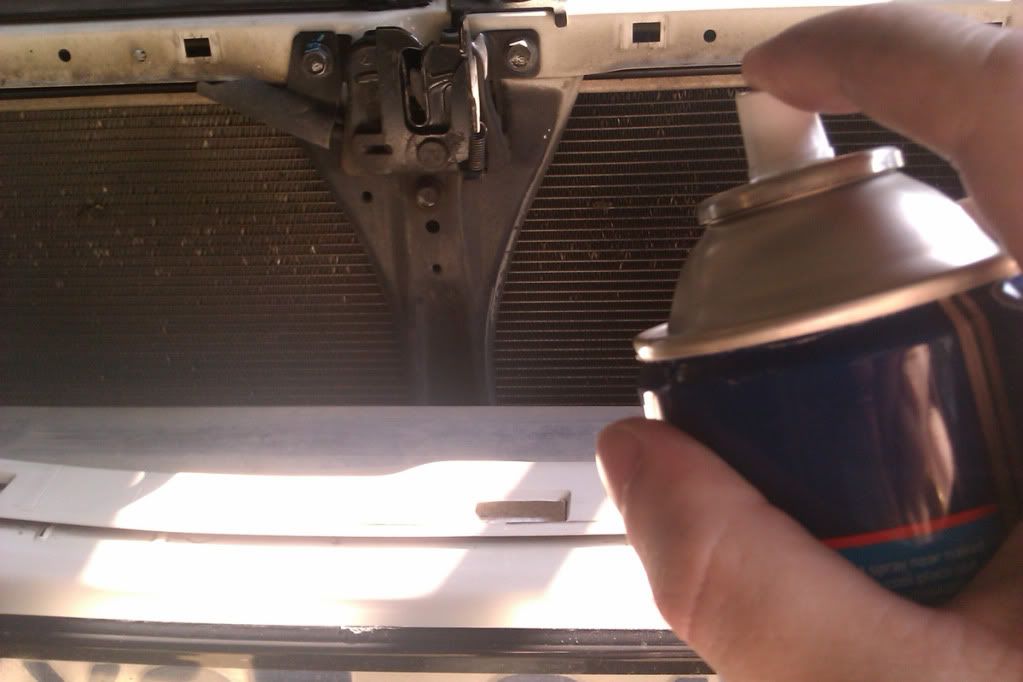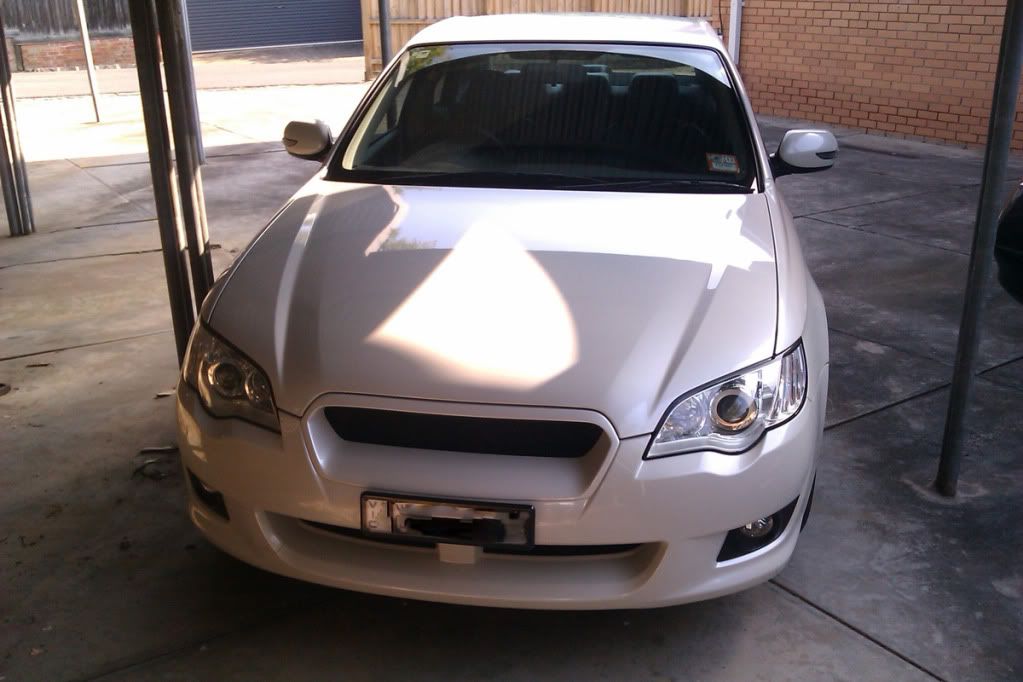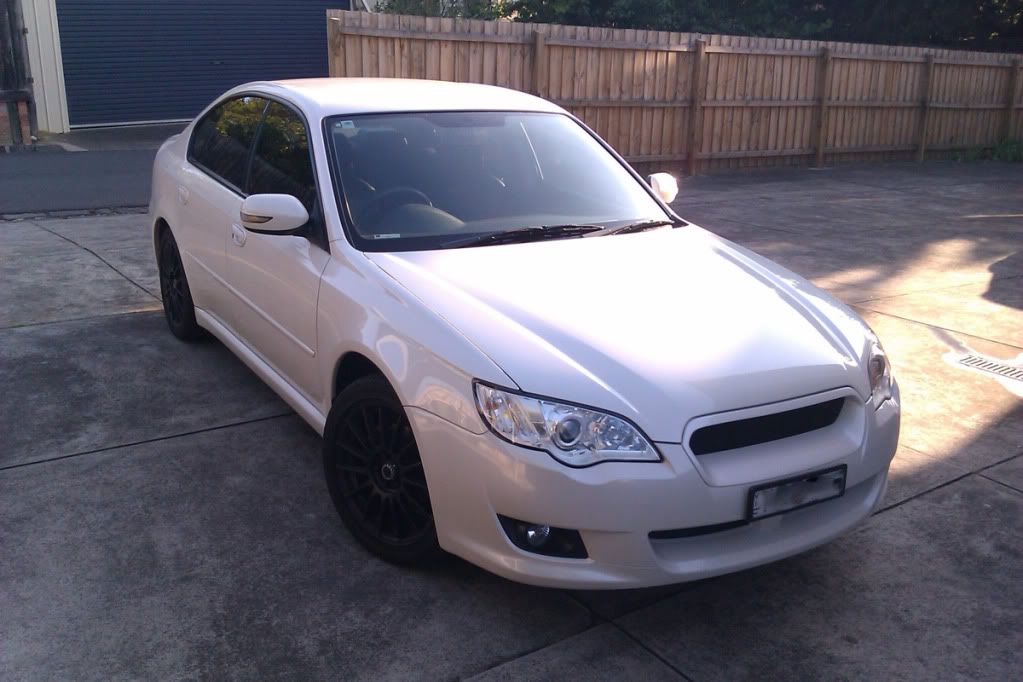 [NB: Walkthrough for installing a grille is here: viewtopic.php?f=12&t=15757].
Immediately after installing the grille, I decided the back end was unbalanced with the single Liberty badge and took it off. I was going to use a hairdryer to do this, but wound up using 'Goof Off' instead.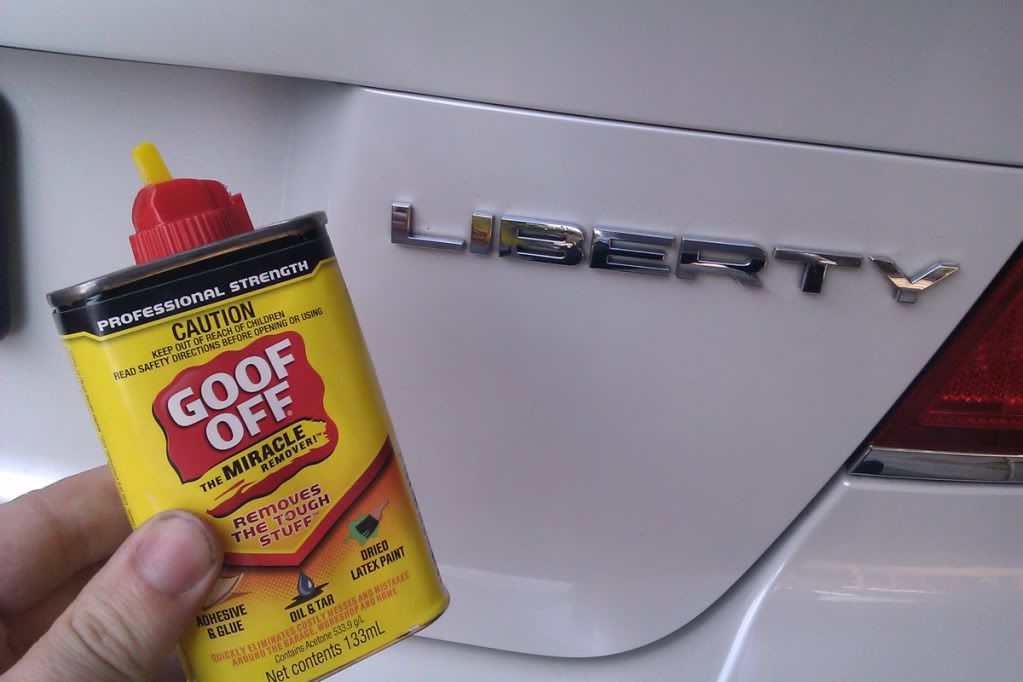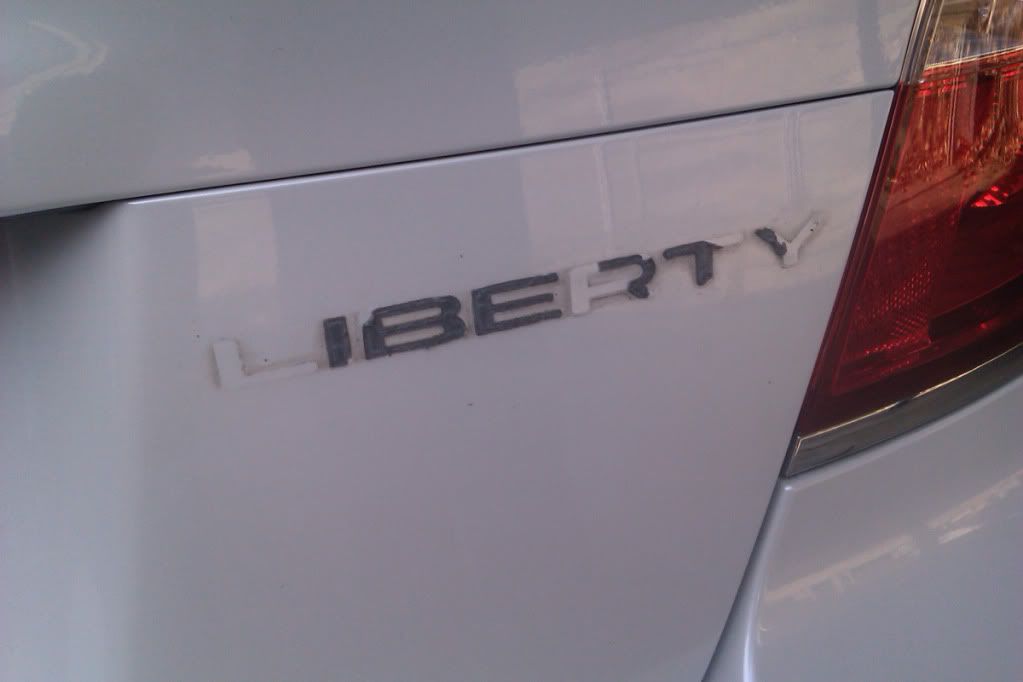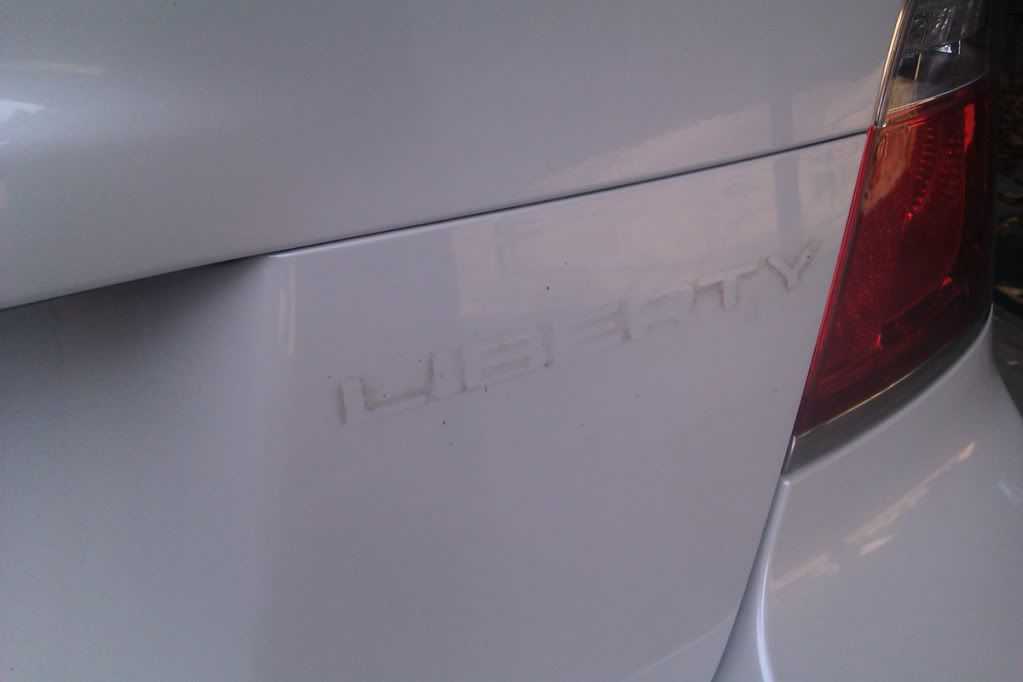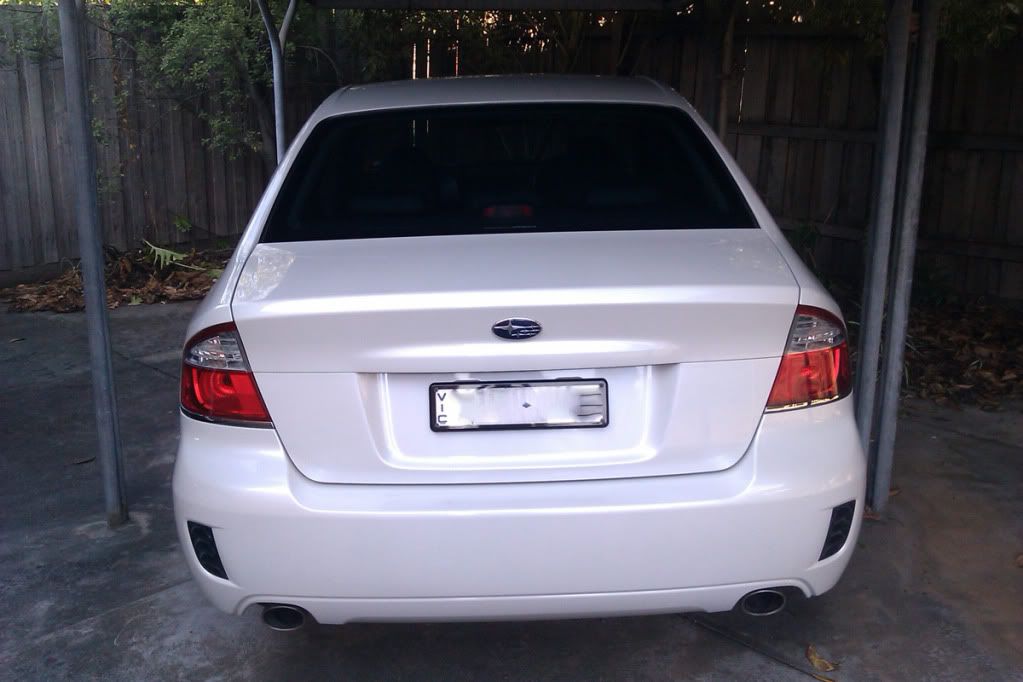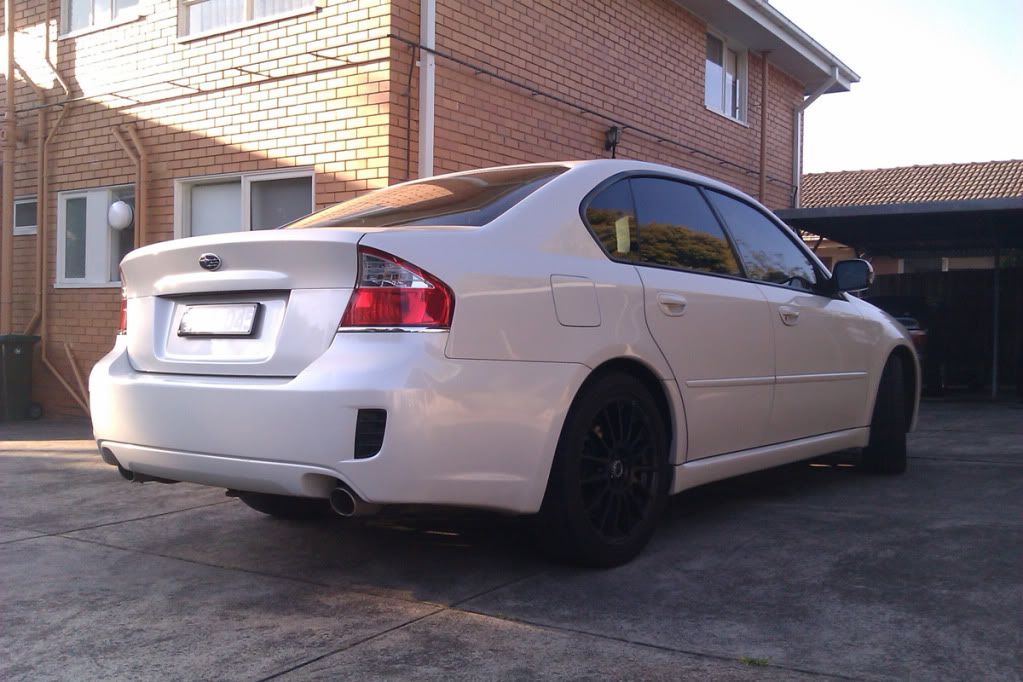 Which pretty much brings me up to date. My next plan is to see if the front lip I have under my couch can be made to fit, so I can tie in my black on white theme more fully.

What I'd Like To Do Next
-Non custom black on white slimline plates
-K2 rear window spoiler (This is a big maybe. Love the look, but very expensive)
-STI rear lip spoiler (This is a maybe item...)
-Exhaust change for sound (no quad tips though, as I like the symmetry of twin pipes)
- New set of tyres. Preferably as grippy as possible but not too noisy and non-slicks
-Front strut and rear sways
Thanks for reading!