OK, thought it was time to share my mods after all this lurking behind the scenes.
I bought my 2008 GT tb STI back in June 2011 completely stock, except for a turbo timer.
June 2011:
Now just four weeks later the poor little STI is trapped in my garage for a few mods - let's call it stage 1
July 2011: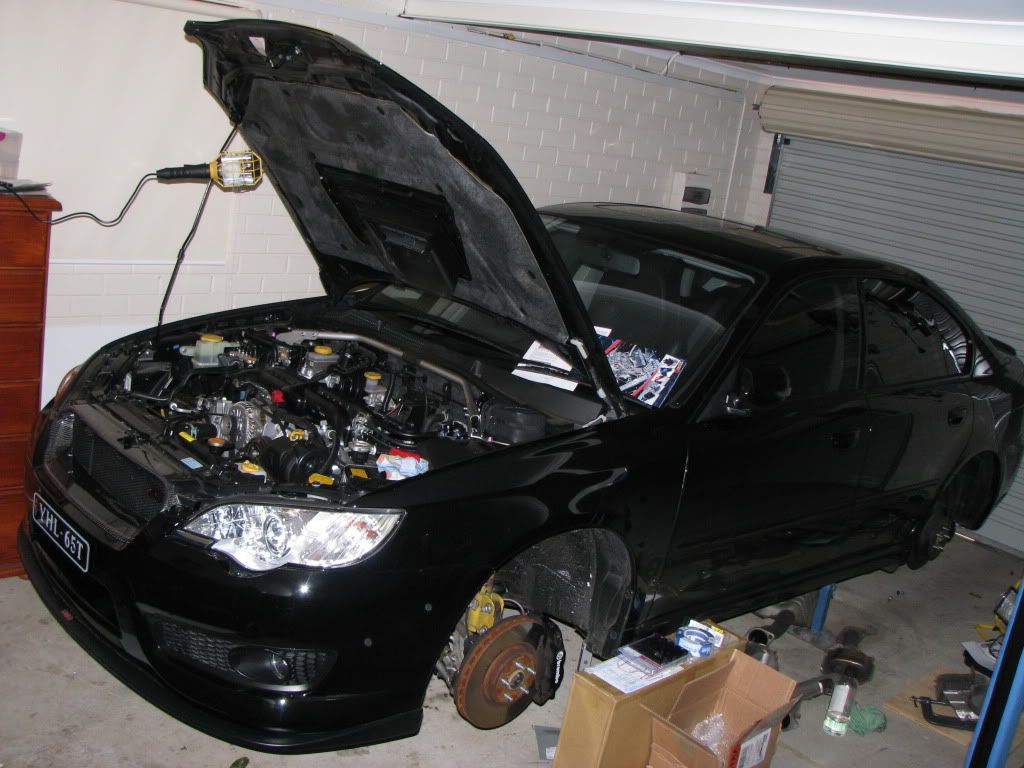 So far the "Stage 1" mods are:
Performance
PHAT Dump Pipe

fitted

XForce 3 inch Catback exhaust

fitted

Prospeed Racing Inlet

fitted

Hyperflow CAI

fitted

Perrin TMIC

fitted

AVO Throttle Inlet Pipe

ABANDONED

Grimmspeed EBCS

fitted

GFB Respons BOV

fitted

GFB Underdrive Pulley Kit

fitted

Cusco Oil Catch Cans x 2

fitted

STI Oil Cap

fitted
Suspension
Cusco Swaybars and Links Front & Rear

fitted

Lower Control Arm Bushes

fitted

AVO Rear Swaybar Support Brackets

fitted
Exterior
Cyber R Big Bulge Bonnet Scoop (still to be painted)
Ultrex Carbon Grille w/ STI Badge

fitted

Ultrex Carbon Rear Diffuser (what a crappy fit! )

fitted

Phillips 8000K HID Headlight bulbs

fitted

LED Park lights 5 SMD T10

fitted

Carbon Eyelids

fitted

Powder Coated STI 18's in Black Onyx

fitted

Rays Duralumin Lug Nuts

fitted

Tail Light tints & Possible chrome strip painted
Black number plates (would have liked custom plates but $2k!! I'll have a new turbo instead )

fitted
Interior
DAMD Steering Wheel

fitted

Prova SI Drive Cap

fitted

Rubber Floor Mats (kids!)

fitted

Rear Seat Cover (kids!)

fitted

Defi Boost Gauge

fitted + oil pressure and temp
The dodgey grille, which can stay for now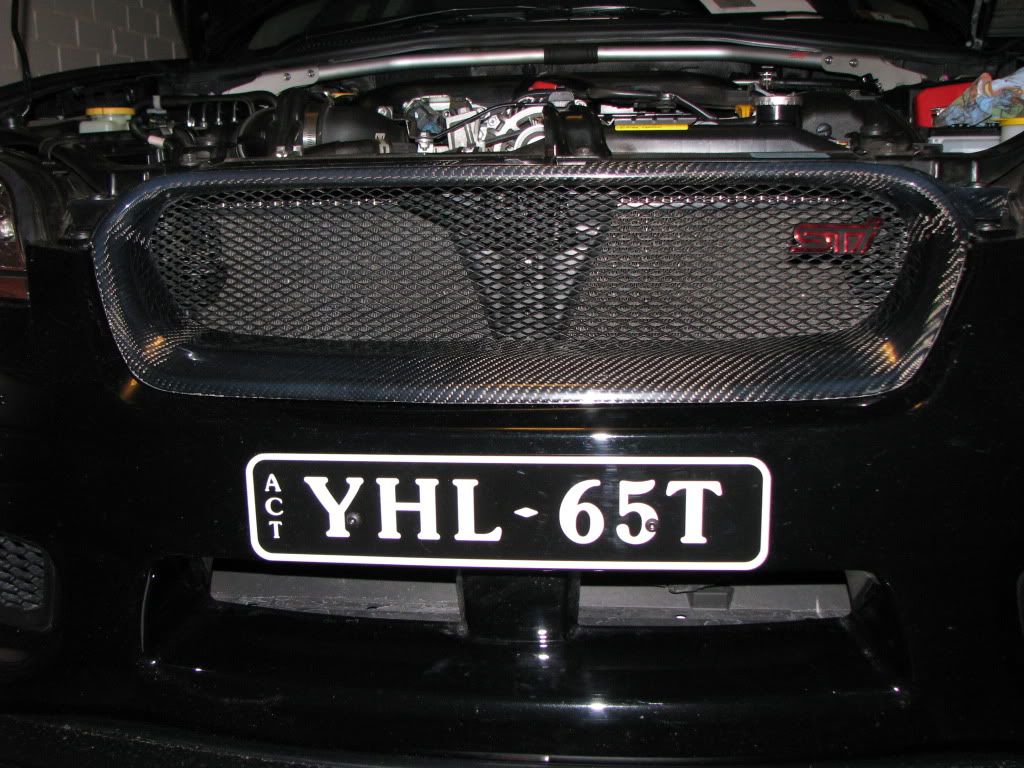 Attempting to fit the even more poor fitting Ultrex rear diffuser with blue racing stripes
. Who would have thought the little jack could hold up the entire car
Anyhow still waiting on a few little hoses before I install all the inlet stuff and TMIC. It's just amazing how one little part, like a dump pipe gasket can hold things up for so long!
I'll post some more pics over the next few days as things progress once the remaining hoses arrive.
Oh and for the record, stock she cranked out 143.3KW ATW on the Ultimate Tunes dyno before I started tinkering.
Update @ August 2011: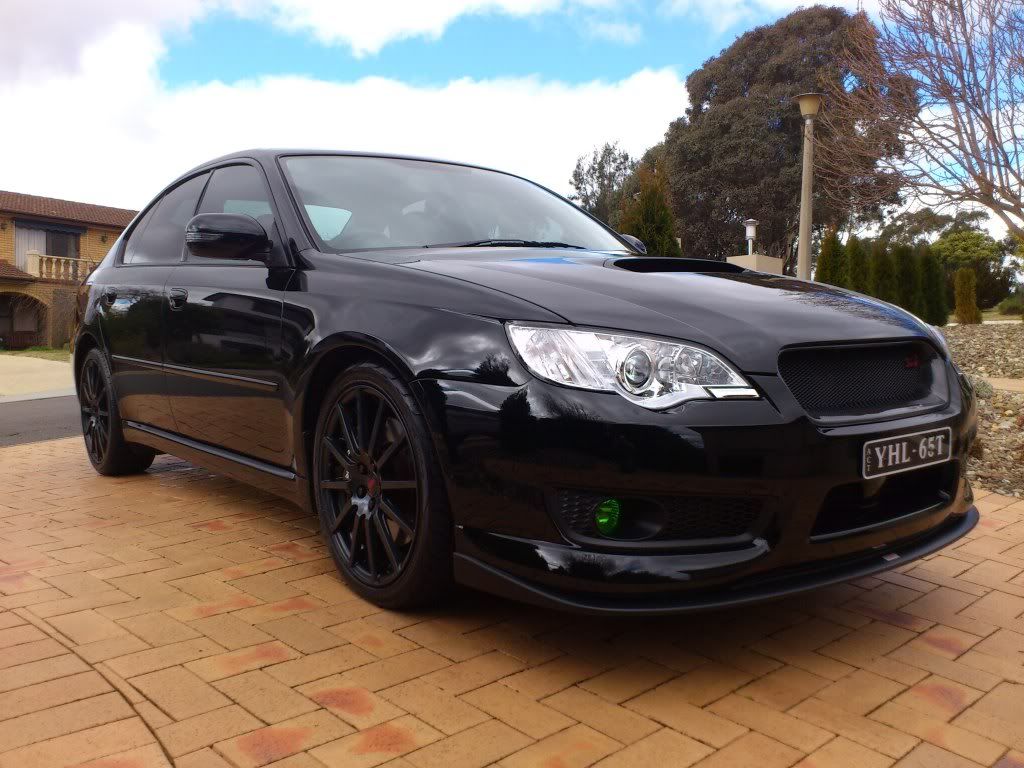 EDIT: Thanks to all who asked, but I'm not selling any of the STI parts - just in case I ever want to go back to stock form.